On-Page SEO Basics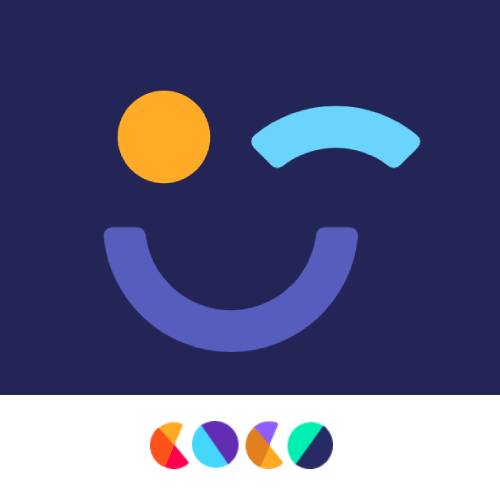 On-Page SEO is important for positioning content on the SERPs. Learn how to apply it here!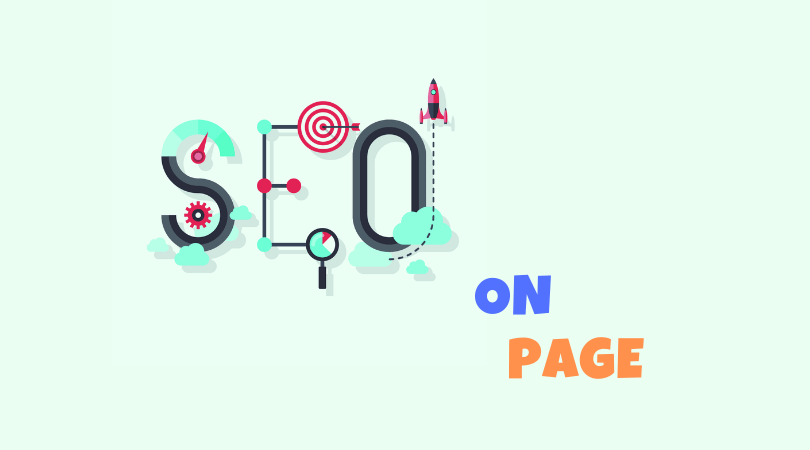 Optimizing a website perfectly isn't something that easy. In fact, succeeding in organic search requires optimizing for a combination of technical factors that search engines such as Google consider important. On-Page SEO is one of the most important aspects of website optimization. It might sound Greek to you, but luckily we'll solve all your doubts.
First things first. Be advised that while on-page work likely won't be enough to rank for competitive terms (say hi to Off-Page SEO!), it's a foundation to higher Google rankings and more traffic for your site. Let's analyze this amazing topic in depth and discover the key things you need to look at if you want to optimize your web page properly!
What is On-Page SEO?
According to Moz, the definition of On-Page SEO (also known as On-Site SEO) is:
The practice of optimizing individual web pages in order to rank higher and earn more relevant traffic in search engines. On-page refers to both the content and HTML source code of a page that can be optimized, as opposed to off-page SEO which refers to links and other external signals.
It's pretty clear, isn't it? Well, I should warn you that this is a long blog post, so if you don't feel like reading until the end I'd recommend you to watch the next video on this topic thanks to Ahrefs.
Why is On-Page SEO important?
Ok, but… is On-Site SEO still making a difference in 2020? Absolutely! Google itself says so: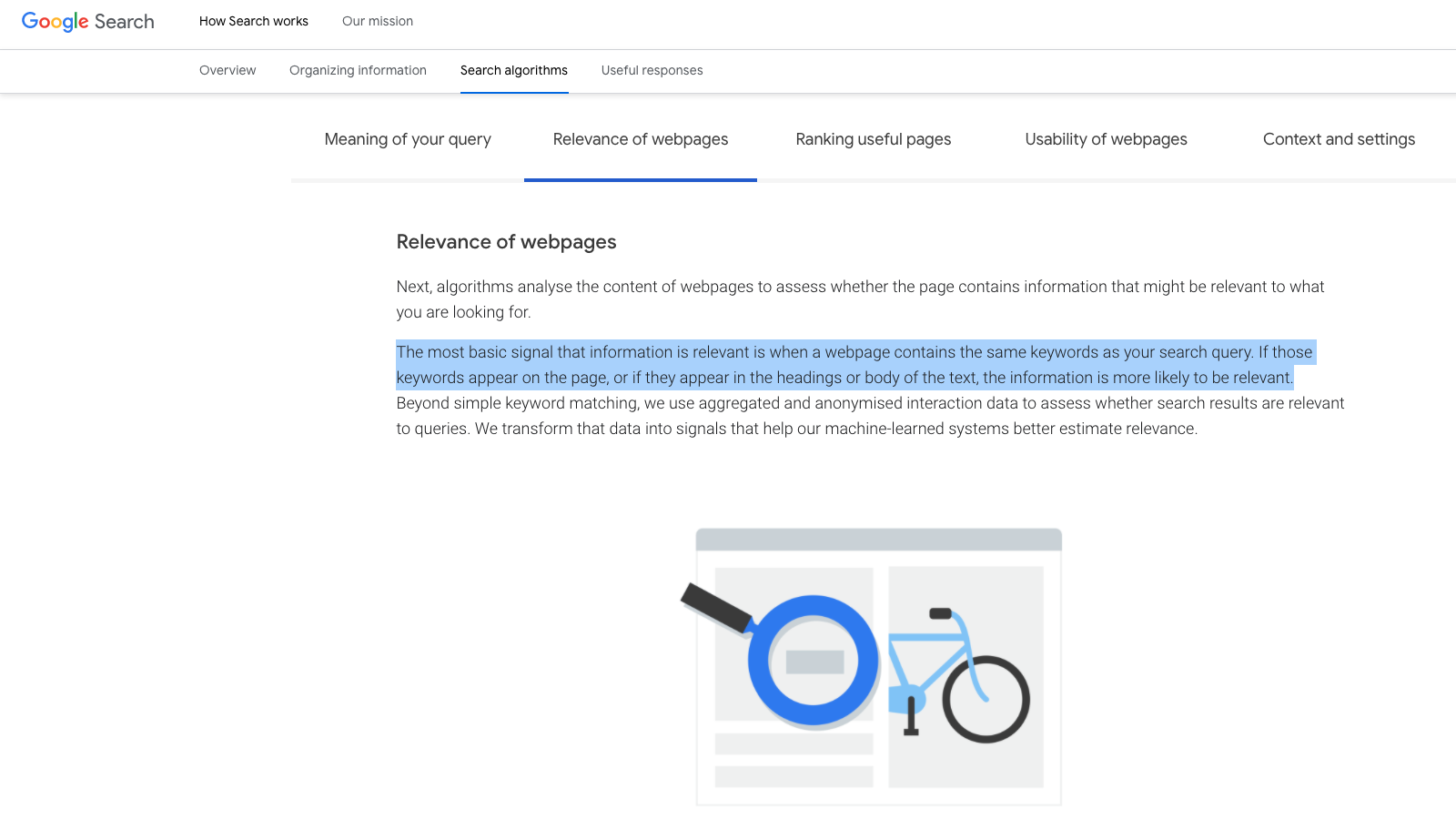 If your goal is ranking your content higher, you shouldn't just throw keywords into your page's HTML. Keep in mind these next factors too:
Click Through Rate (CTR)
Page Loading Speed
Search Intent
Bounce Rate and Dwell Time
User Experience (UX)
Optimize your content for SEO
As you can see that the importance of On-Page SEO is more than relevant, then it's time for some content optimizing, right?
Use the target keyword in the first 100 words
This is an old SEO technique that it's still valid. The only thing that you have to do is using your main keyword in the first 100 words of the article. This is important because Google gives more value to terms that appear early in the page.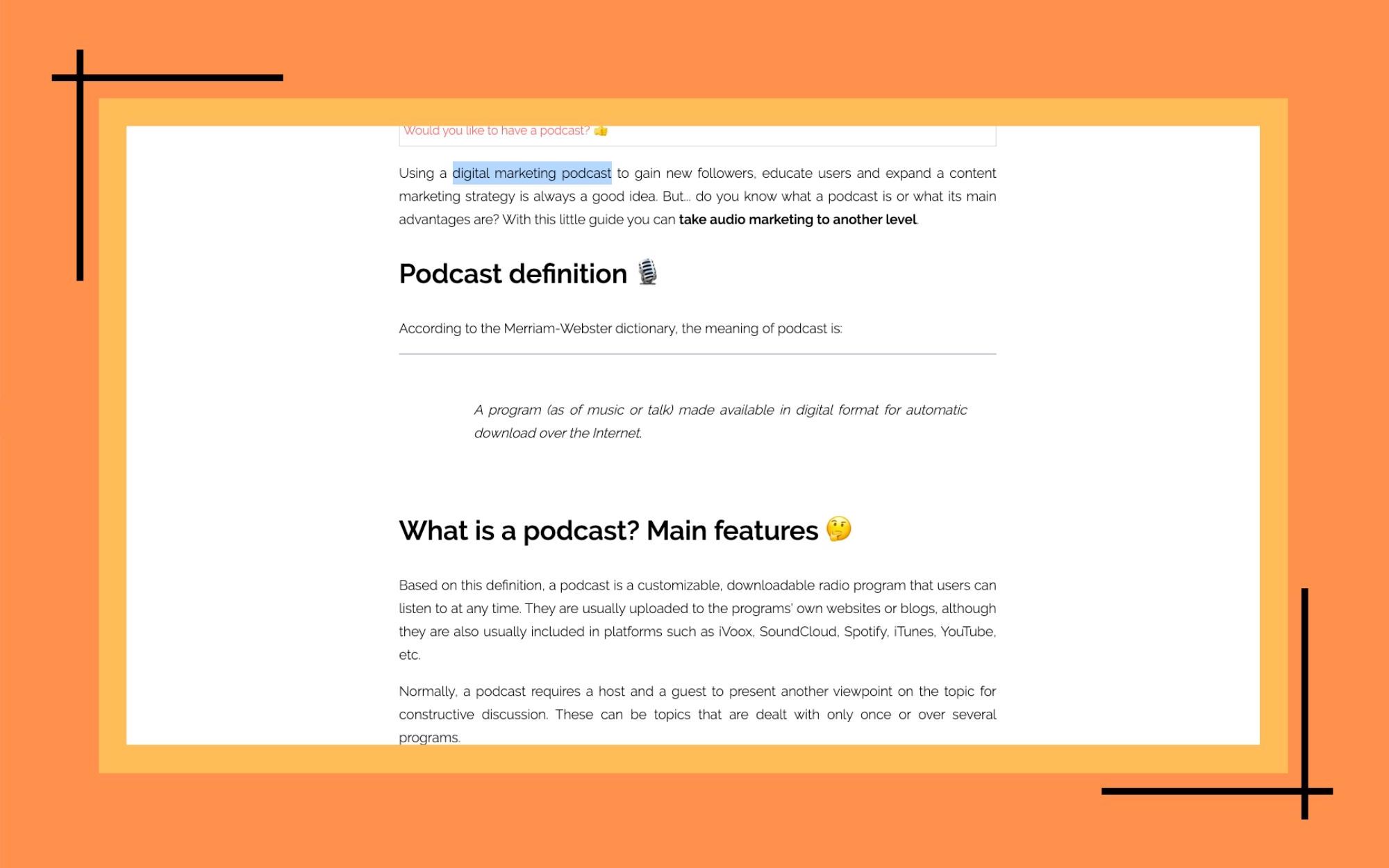 Wrap your blog post title in an H1 tag
The great Neil Patel stated that the H1 is an 'HTML tag that indicates a heading on a website'. On this matter, Google says that using an H1 tag 'helps understanding the structure of the page.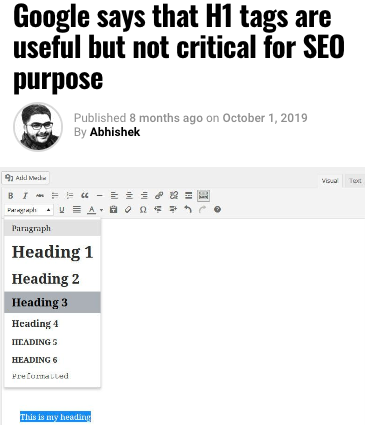 Nowadays, most platforms automatically add this mini title tag to a blog post title. But, if that's not the case, you'd have to check the site's code to make sure the title is inside an H1. Then, don't forget to put the keyword in it.
Wrap subheadings in H2 tags
Including the target keyword in at least one subheading that is an H2 will make the difference. Here's an example of this strategy in action with the target keyword 'digital marketing podcast':

Keyword frequency
A good definition of keyword frequency (also known as keyword density) is the 'times a keyword appears in a content'. Although Google denies that using the same keyword many times helps, most SEO experts will tell you the opposite.
For instance, if you talk in an article about 'digital marketing podcasts' and only use that specific keyword once, Google may not be as much as confident about that keyword as you may think. But, if the page mentions the keyword too much, Google may penalize it.
The rule of thumb is using the keyword every 200-300 words or so, but don't get obsessed with it. The text should always be natural, and artificial language is not a good thing both for Google and users.
Use external (outbound) links
External links to related pages are of great help, as Google will figure out the page's topic and that it's a source of quality info. In other words, websites with outbound links (ideally to authority sites) are more prone to rank better than websites without them.
Optimize your URLs for SEO
The URL structure is an undervalued part of On-Page SEO. Just follow these simple tips:
Short URLs
A keyword in each URL (you can add one or two extra words if you like)
Optimize the meta title and meta description tags
Google says that optimizing title tags helps with the rankings, so it's important to work them. But, even though Google don't pay much attention to description tags, searchers do. Thus, it's very useful to get them pretty in order to improve CTR.
Polish the meta title tag
This is probably one of the most important On-Page factors. The reason? The title tag provides search engines lots of information about the page. It's recommended to place the keyword at the beginning of the title tag as close as possible, but always using a natural language
Use meta title tag modifiers
Using modifiers such as 'best', 'guide', 'new', 'review', 'top', '2020' or even emojis, among others, helps to rank for long tail keywords of the target keyword. In addition, it improves CTR.

Use keywords in the meta description tag
The official Google's Search Engine Optimization Starter Guide says that: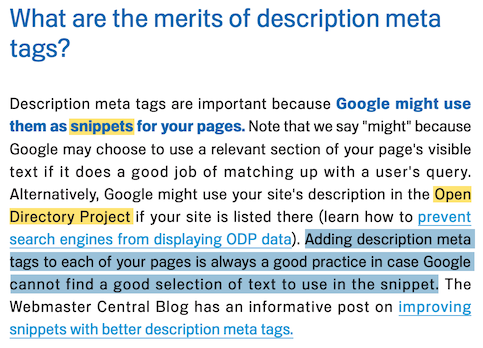 In addition, a good meta description is useful to stand out on the SERPs (search engine result pages), thus boosting the organic CTR. Furthermore, as Google bolds exact terms in the person's query, you should use a keyword in this specific tag.

Write SEO content
Writing SEO content for positioning is not as easy as it seems, but it always should be unique, valuable and optimized for search intent.
Unique content
Having a unique content isn't only about avoiding duplicate content, but offering something fresh and new. Think about adding tips, strategies, better curated resources, a new case study, etc.
Valuable content
Apart from being unique, the content should be valuable. In order to do this, you better start using details (images, screenshots, step-by-step processes…), copywriting to increase engagement, updated material, trusted sources, etc.
Optimized content
Ok, you now have unique and valuable content. But now that content should be optimized to rank high in the SERPs. A good way is viewing how the top ranked pages for your desired keyword are doing. Check their content and apply their strategies.
Optimize for CTR
Your content is now ready for publishing, but first you should get your CTR (click through rate) optimized if you want users to click on your link on the SERPs, right?
Use questions in the meta title
Pages with a question in the meta title tag have more probabilities to be clicked than those that don't have it.

Fill in the meta description
Obviously, pages with a meta description should get more clicks than those that doesn't have one. It's recommended to do an SEO audit to discover those missing meta description fields.
Use a Review or a FAQ Schema
While a schema doesn't necessarily help SEO, using some kinds of schema can get you the Rich Snippets. And this will get you more clicks. This is how a Review Schema looks like: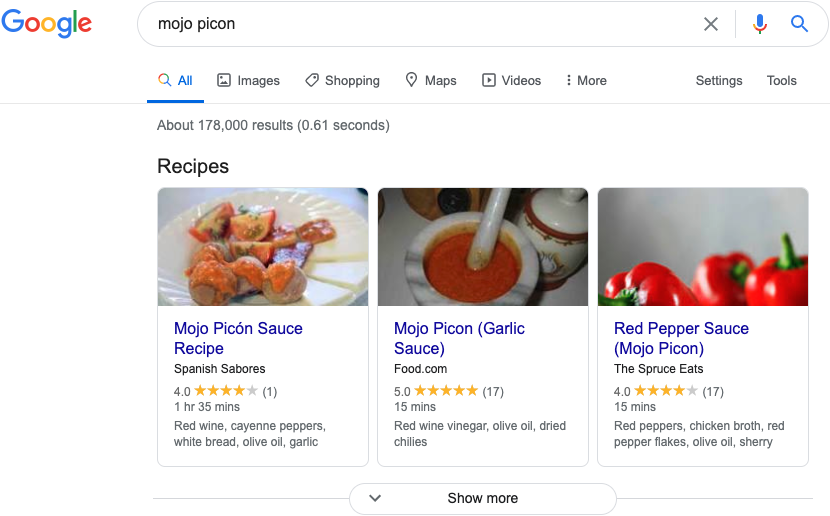 And this is a FAQ Schema: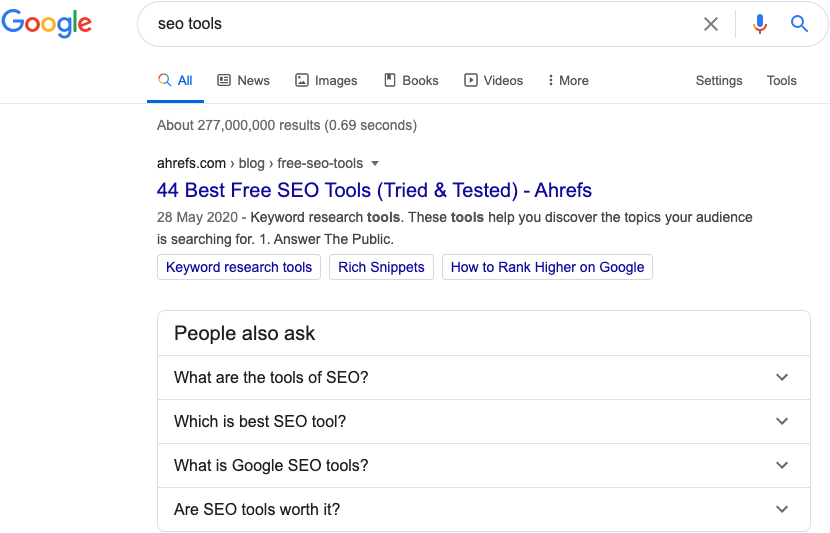 Use the Google's Structured Data Testing Tool to check if the Schema is setting up correctly.
Emotional meta titles
A 'cold' meta title, as if were written by a computer, won't get as much clicks as one with a touch of emotion. Think about it. Which of the following links would you click?
Insane tips for writing SEO content that will get you traffic
How to Master SEO Content Writing: A Copywriter's Guide
I hope you picked number 2… But don't use too much emotion or people will think the link is spam.
Add the year to the meta tags
Adding the year to the meta tags helps yo get more clicks, as the user will know that the information is updated. Obviously, this doesn't make sense if the content is evergreen (e.g., Discover the Work of Socrates in 2020).

Advanced On-Page SEO tips
Using some bonus techniques will definitely improve your SEO.
Use original images
If you have original images for your content, then you better start using them. Indeed, stock pictures might hurt the SEO.
Optimize the images
Optimizing the images can boost the SEO. 100% guaranteed. Follow these recommendations:
Interlinking
Internal linking is, probably, one of the best tips for SEO that exist. The key is linking from top-authority pages to those that need a boost with a keyword-rich anchor text. You should use a SEO tool like Ahrefs or SEMrush for it, undoubtedly the best on the market.
Write complete content
If the content is complete, then the reader won't have to go to another page. It's pretty obvious, isn't it? Thus, using LSI (Latent Semantic Indexing) keywords will tell Google that your content is comprehensive. A quick tip is checking the related keywords found on the SERPs.
Increase the page speed
If the loading speed of a page is too high, then the user will get tired of waiting and will search the information in another page. A good way to improve the page speed is using a tool like Google PageSpeed Insights.
Final thoughts
As you can see, On-Page SEO is way more than using some keywords in meta tags. It's about satisfying the searchers' need. Keep that in mind, because if you throw lots of optimization but your content doesn't fulfil the user's need then it doesn't matter how hard you worked on your optimization.