Banana Computer: a Successful SEO Case Study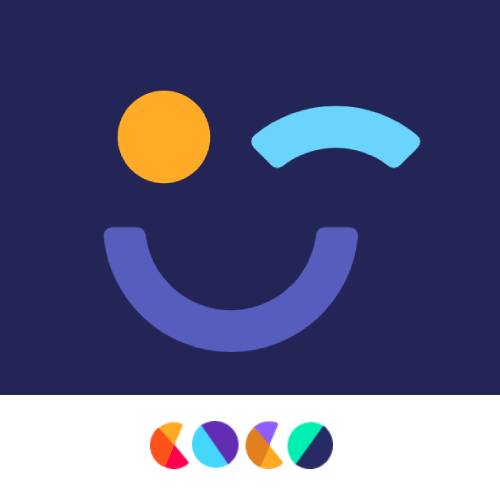 Banana Computer is one of the clearest examples where SEO helps a lot to boost a website.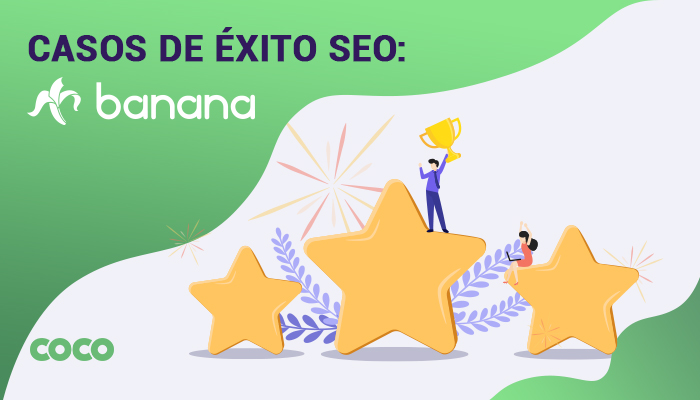 For Coco Solution it's a great honour to make all our customers happy with the daily work done, which gives good results. For this reason, it's the turn to talk about the successful SEO case of one of the pillars of technology in the Canary Islands: Banana Computer.
What is Banana Computer?
Banana Computer, founded back in 1991, is the only Apple certified shop in the Canary Islands. This means that it's the only shop on the archipelago that has the official backing of the American giant.
Thanks to the proximity of its employees, customers who buy once return for many more things, such as advice or even training. These are some of the reasons that make Banana Computer a great family.
But, in order to reach more customers, it was necessary to promote the brand's online presence. Therefore, making sure that Banana Computer could continue to be as successful (or even more so) on the Internet was a huge challenge for Coco Solution.

Banana Computer at the beginning of the project
When we started working with Banana Computer we realised something that was hard to imagine about the only Apple Premium Reseller in the Canary Islands: its website was purely informative and it hadn't any payment gateway or ERP.
In fact, there wasn't any reservation option. Users saw the products with their prices and, if they were interested in something, they had to physically go to any of the shops to buy it. It was a site with a lot of potential.
In terms of online visibility, 95% of organic traffic was branded, with flat graphics that barely exceeded 500 visits per day and only reached 1,000 visits during the Christmas and Black Friday seasons.

What did we propose at Coco Solution regarding SEO?
Initially and after carrying out an audit of Banana Computer's website, the technical difficulties we identified in working on the existing website led us to consider several options.
After a careful study and taking into account the resources we had, it was decided that it was much more efficient to create a content strategy by focusing all our efforts on a blog developed from scratch that would attract specialised traffic from the Apple world.
A content strategy was proposed that would be effective and that would obtain the best results with the necessary budget.
Customised development of a SEO blog
Before devising a positioning strategy that would give results, the website had to be improved. So, our colleagues from the Development department programmed a SEO-friendly blog.
How did they achieve this? Very easy: by means of the personalised development, keeping in mind all the factors that help improve positioning and, as a great feature, with the agency's own SEO tools.
A humble but ambitious Keyword Research
A SEO Content strategy was implemented with the aim of increasing traffic and visibility of the website. 
A Keyword Research was carried out based on search intentions not worked out by the big names in the sector (blogs specialised in Apple). Thus, we identified opportunity keywords with little competition and high search volumes.
Our strategy was based on taking advantage of the rankings achieved by the large specialised portals that didn't apply quality SEO, but positioned themselves by their brand and authority. 
Carefully written SEO
One of the most important points was the writing of SEO-oriented articles where main, secondary and long tails keywords were worked on. 
However, in addition to working well on keywords, special attention was paid to the heading structures of the posts, which is important for good positioning.
However, if a text doesn't engage, the user won't read it no matter how much the keywords have been optimised. This is why we wrote the articles in the form of storytelling.
Regularity in content
Of course, the blog posts had to be written and uploaded periodically. In this case, it was decided to write one article per week so that the blog would have new content regularly.
Truthful and reliable content
Although Banana Computer isn't catalogued in the YMYL (your money or your life) sector, that is, websites offering sensitive content such as finance, legal advice or medical issues, among others, Google takes the reliability of the content very seriously.
For this reason, despite the fact that it's technology, the publication of the weekly articles is always based on official sources, which has allowed many key words to be positioned in the top positions of the search results.
Regularly updating the content
Of course, any SEO strategy must include subsequent maintenance where the site's content is regularly reviewed, checking which techniques work best in order to apply them to the content that needs them most. This stage is called content curation.
Thanks to this, the website is continuously audited to solve possible technical errors and optimise them in the best possible way. The curing of contents is a vital work for the positioning of a website.
Freshness, lots of freshness
In addition, freshness is one of the most important factors for SEO. Google understands that updated content is more relevant to user queries than outdated content.
In other words, it rewards in its rankings or search results all those contents that have been recently updated over those that haven't been updated in a while. This is something that we apply at Banana Computer.
AMP
Most of the visits to Banana Computer's website are via mobile phone. As such, it was extremely important to implement AMP (Accelerated Mobile Pages) technology on the site so that it was 100% suitable for mobile devices.
The fact is that users who enter a site that isn't optimised for mobile quickly get tired and access another result for their query. Thus, Google takes into account the AMP and better positions the websites that have this technology.
Optimised interlinking
It's clear that both the content and architecture of the website are key factors in the success of Banana Computer. However, the internal linking or interlinking contributed especially to give a boost to the positioning of the site.
Thus, a strategy was devised in which link juice had special relevance. In other words, part of the strength of the pages with more authority was transmitted to those with less, with the goal of boosting its SEO.
For instance, if a blog post was very well positioned for a certain keyword, part of its link juice was redirected to another relevant page so that it could climb positions in search engines. Conversion is, by all means, the end.
Quality link building
After working On Page SEO, the Off Page SEO had to be worked on thoroughly. Link building is one of the keys to positioning. In fact, with an optimal link profile a greater amount of traffic was attracted, increasing the domain authority.
In this way, a monthly link building strategy was chosen with the goal of obtaining links in media related to Banana Computer. Special emphasis was placed on renowned and customer-related portals, something that Google likes very much.
Results
The consequences of implementing our SEO strategy were entirely positive. Both Ahrefs and SEMrush show us clean growth charts, something that's difficult to achieve in most SEO projects. It's very difficult to find a project with such growth and so stable over time.
The two tools show different numbers, but it's possible to get an idea of the organic traffic and the amount of keywords for which Banana Computer's website is currently positioned.
Ahrefs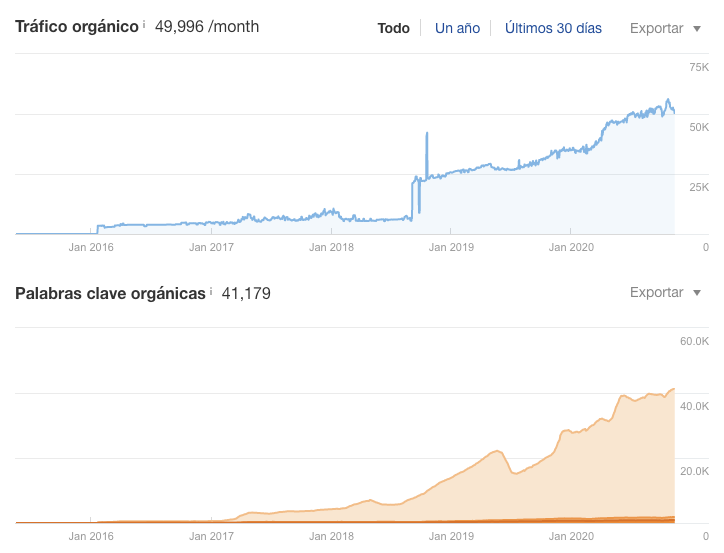 SEMrush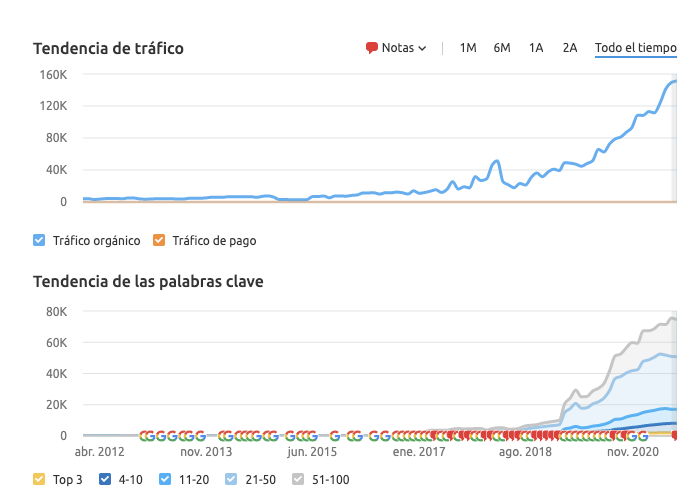 Search Console
Search Console shows us that almost 120,000 impressions and 7,500 organic visits per day have been achieved:
Google Analytics
In Google Analytics we see a graph with a positive trend, close to reaching 100,000 monthly organic visits:

Yearly organic growth
Comparative period: (September 2017 - September 2018) vs (September 2016 - September 2017)

Comparative period: (September 2018 - September 2019) vs (September 2017 - September 2018)

Comparative period: (September 2019 - September 2020) VS (September 2018 - September 2019)

As a curiosity, the rise in SEO has been so brutal that we've even managed to position a keyword as generic as 'banana' getting the Rich Snippet (in Spain):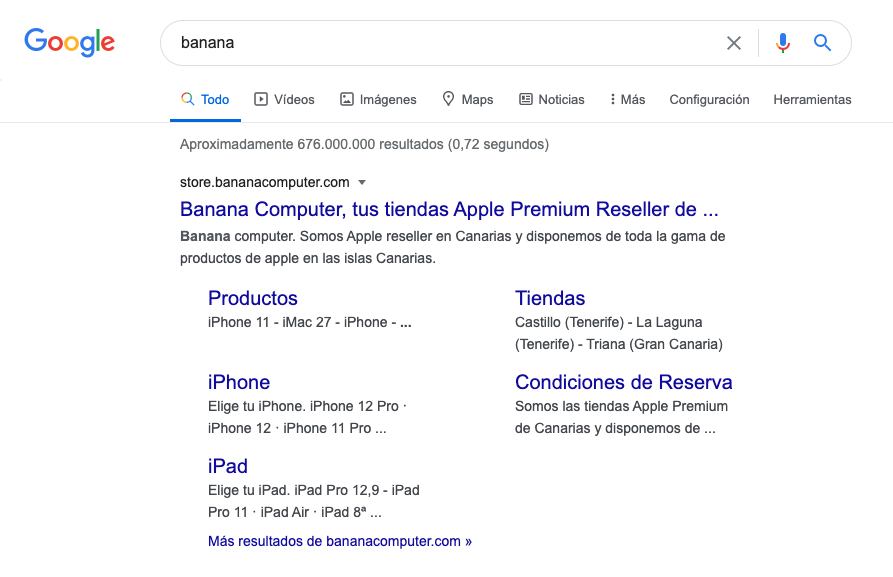 Yes, you read correctly: first place out of approximately 676,000,000 results. Incredible, isn't it?
The future of SEO in Banana Computer
Banana Computer is, without a doubt, the Canarian reference for Apple. The spectacular results achieved at the SEO level are no more than the result of the hard work of the entire Coco Solution team.
But... what else can be done in the future with regard to positioning? After studying the SEO in detail, we've decided (with the client's approval, of course) to develop a completely SEO-friendly website.
We'll pay special attention to Banana Computer's e-commerce, including important new features that'll improve users' shopping experience such as a neuro-linguistic search engine and even voice search.
In addition, we'll have our own SEO tools such as Keyword Tracker, BERT Calculator, Pychecker or SEO Toolkit, among others. With these tools we'll be able to work more thoroughly on transactional keywords and boost these keywords thanks to all the traffic that comes from the blog with product reviews and new ones.
The future of Banana Computer is bright and, given the spectacular results achieved at SEO level, in Coco Solution we hope to continue growing both in positioning and in sales, which will undoubtedly benefit both.