This Is Why You Should Have a Digital Marketing Podcast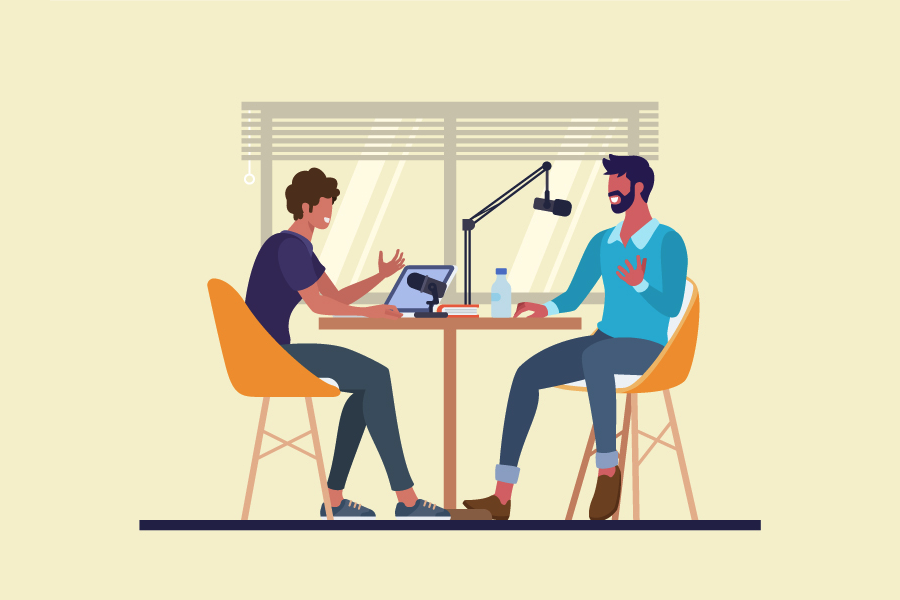 Using a digital marketing podcast to gain new followers, educate users and expand a content marketing strategy is always a good idea. But... do you know what a podcast is or what its main advantages are? With this little guide you can take audio marketing to another level.
Podcast definition 🎙️
According to the Merriam-Webster dictionary, the meaning of podcast is:
A program (as of music or talk) made available in digital format for automatic download over the Internet.
What is a podcast? Main features 🤔
Based on this definition, a podcast is a customizable, downloadable radio program that users can listen to at any time. They are usually uploaded to the programs' own websites or blogs, although they are also usually included in platforms such as iVoox, SoundCloud, Spotify, iTunes, YouTube, etc.
Normally, a podcast requires a host and a guest to present another viewpoint on the topic for constructive discussion. These can be topics that are dealt with only once or over several programs.
Differences between podcast and radio program 📻
Although there are many similarities with the radio concept, the main difference lies in the permanence in time. A podcast can be listened to at any time, while a radio program is something unique. However, nowadays almost all radio stations offer their contents through podcasts.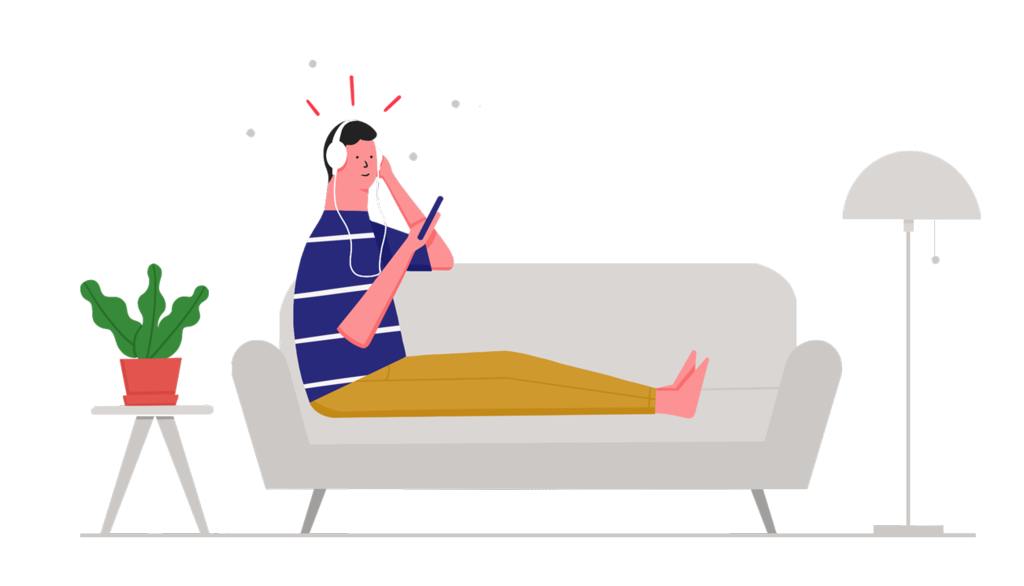 7 advantages of having an online marketing podcast 🤯
Having your own podcast has many advantages such as the following:
1. It's trendy
With a podcast you can develop content that generates more visits in less time than, for example, a blog. Even if you apply good on-page and off-page SEO strategies, a podcast is immediate.
2. Less competition
The world of podcasting is still growing. Thus, positioning yourself as a digital marketing podcast as soon as possible is a great opportunity.
3. It's cheap
To offer a quality podcast you only need a sound system and some audio editing tools to remove background noise or add some music at the beginning and end of the program, among other things.
4. Having one doesn't hurt
Podcasts can be listened to at any time and in any place and do not interfere with other activities or tasks. Now driving to work or taking a shower while listening to your favorite show is a reality.
5. It's a good networking tool
If you want to make new contacts and forge alliances, the most efficient and productive way is a podcast. In fact, podcasts that focus on interviews are quite popular, enjoyable and more dynamic than those conducted as a script reading.
6. You will be considered an expert in your field
To position yourself better and differentiate yourself from the competition, there is nothing better than a podcast. This way, you can push yourself to the top of the industry more quickly and effectively than using other content formats. It is also very important for brand visibility.
7. Say no to monotonous content
Through a podcast you will be able to express much better what you would like to say on paper. In fact, the voice is a very powerful weapon. Take a menthol pill and gargle to get rid of your phlegm and captivate your listeners with your sexy voice.
Use a podcast as a marketing strategy 😏
Podcasts are a great option to boost a marketing strategy. With them you can:
Promote the Q&A format so that users have the option to send their questions through comments or social networks and thus be able to develop them in a podcast.
Make specific collaborations to multiply the quality of the content offered, especially if you have the point of view and experience of experts in the sector or subject matter.
Complement texts to give more value to the content offered and make the reader feel very comfortable. Logically, the content of the podcast must be different from the text.
Create special content to reach another type of audience. This can be done, for example, by turning a relevant post or blog entry into a podcast.
3 best online digital marketing podcasts 🔝
Without further ado, here is our TOP 3 podcasts specializing in digital marketing, in no particular order.
1. Marketing O'Clock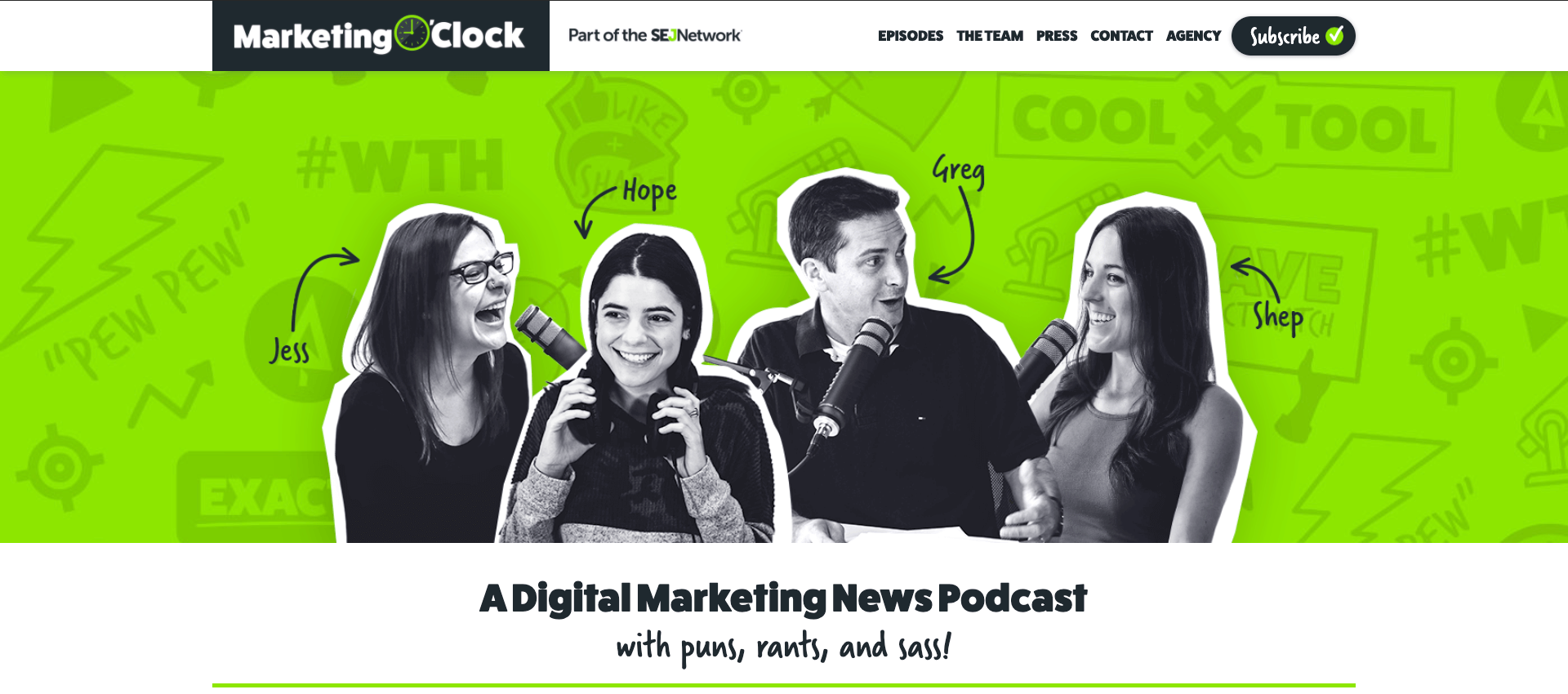 The team at Cypress North, a full-service digital agency based in Buffalo, New York, has one of the best weekly digital marketing podcasts around: Marketing O'Clock. Greg Finn, Jessica Budde, Christine Zirnheld and Hope DiNatale offer candid conversations with real marketers about what's happening in the industry, new features, and strategies you can employ for real results. Just be ready to hear their opinions, puns, and terrible jokes.
2. Marketing Scoop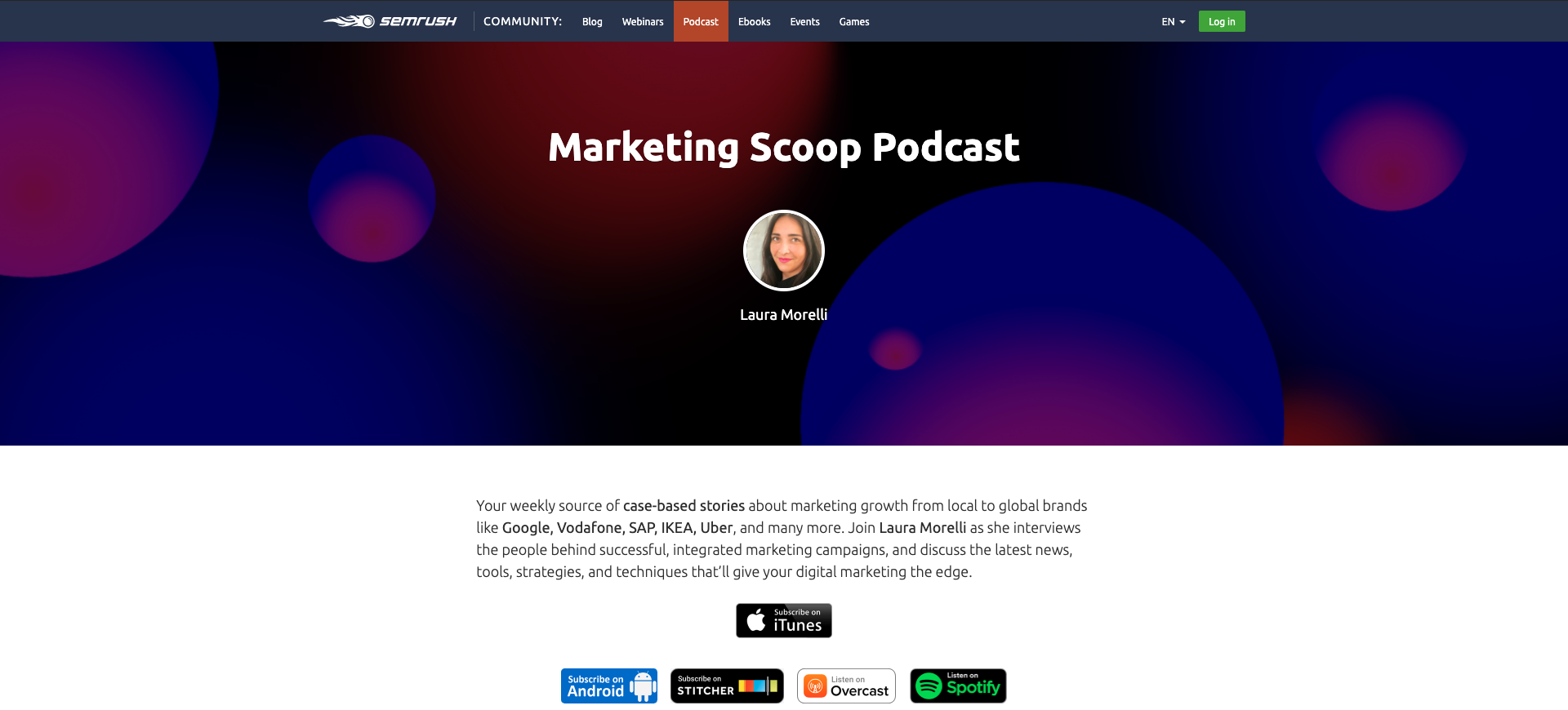 Laura Morelli from SEMrush host Marketing Scoop, a weekly source of case-based stories about marketing growth from local to global brands like Google, Vodafone, SAP, IKEA, Uber, and many more. Interviews with people behind successful, integrated marketing campaigns, and discussions about the latest news, tools, strategies, and techniques that'll give your digital marketing the edge.
3. Community Karma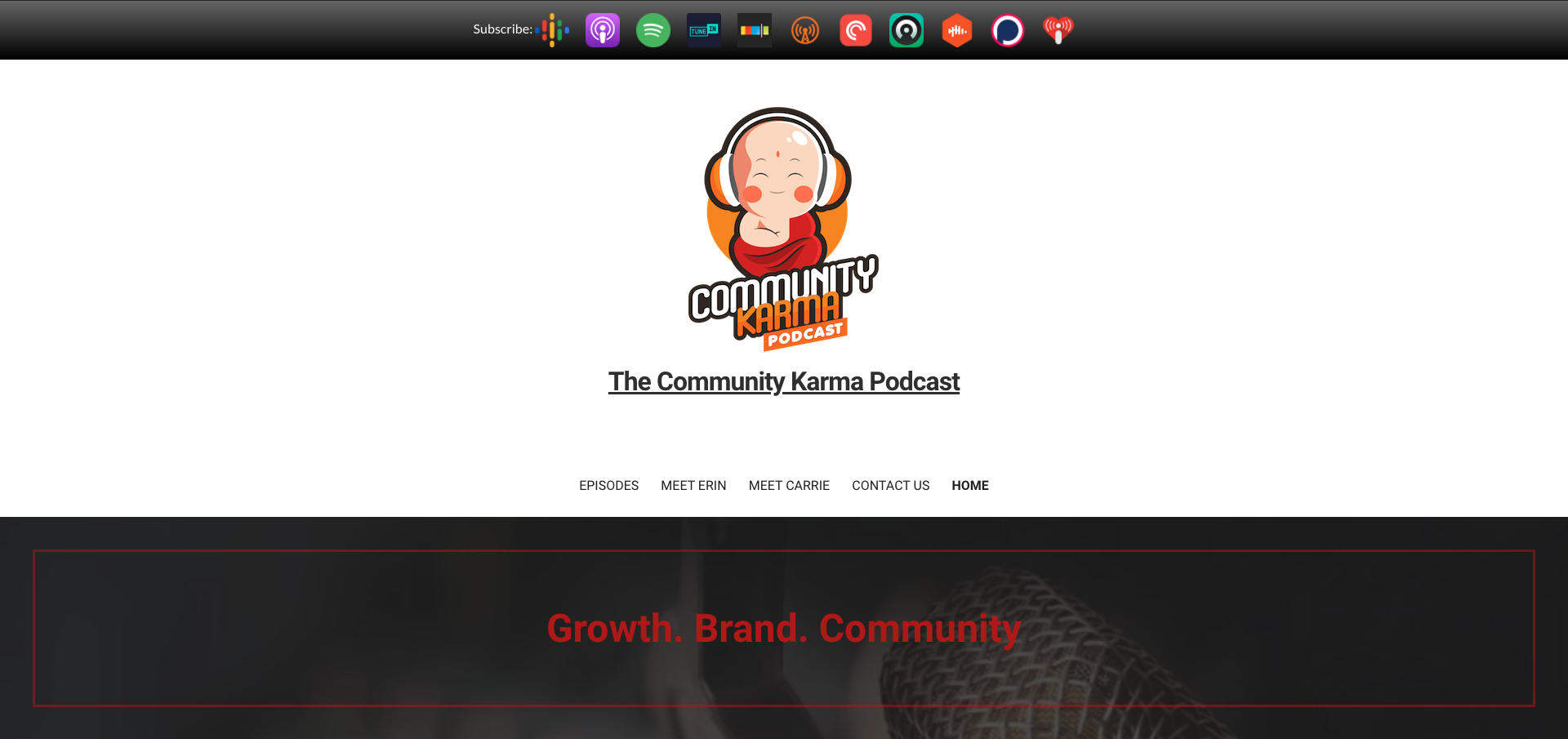 Erin Jones and Carrie Hill from the Community Karma podcast want to help companies in their branding efforts and show marketers and business owners how to grow their brands holistically via community building. With case studies, a current podcast on B2B community collaboration, and a recent weekly episode on influencer marketing, we think they are hitting their mark. There are great insights to gain from these two successful marketers.
Would you like to have a podcast? 👍
In short, with this article you should have learned what a podcast is, what its advantages are and the implementation of this tool in marketing strategies. A digital marketing podcast can be a milestone in the creation of content, as the perfect complement to obtain better results, conversions and visits. Doesn't sound bad at all, does it?
Share this in your social networks