10 Social Media Monitoring Tools to Save You Time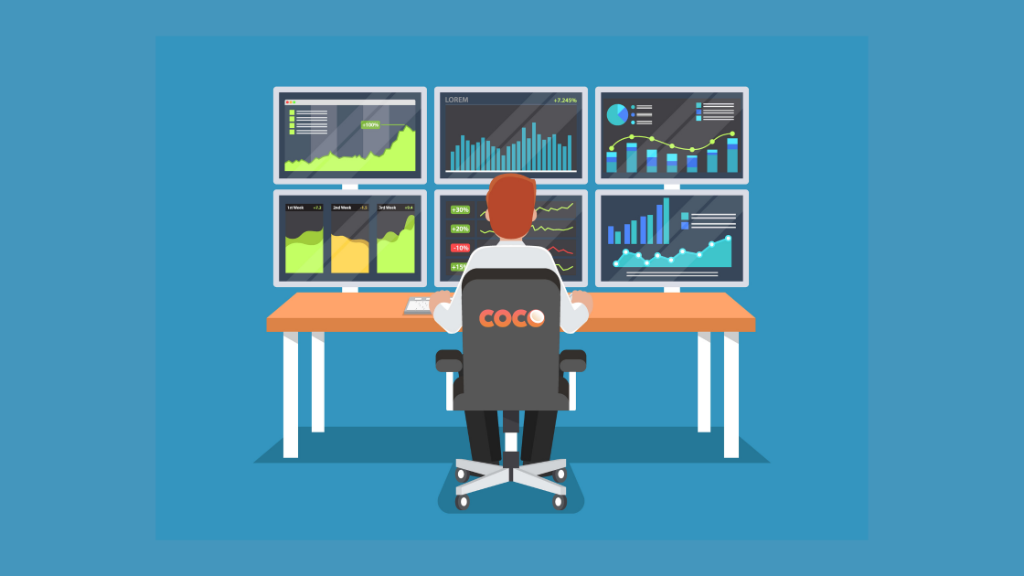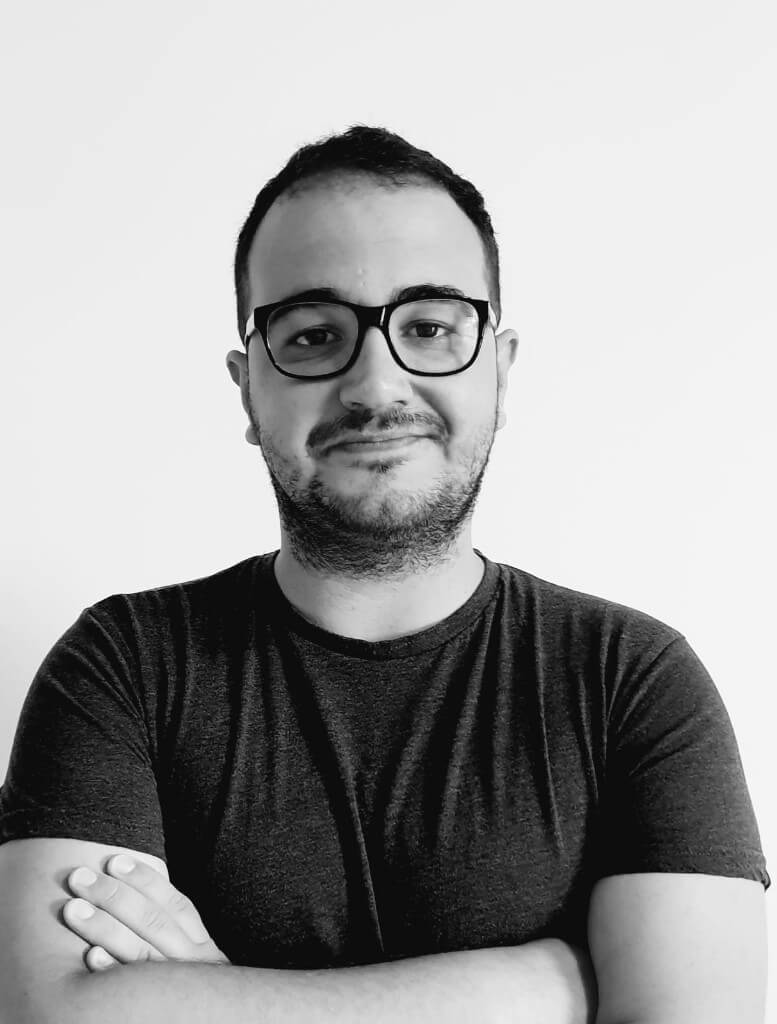 Nowadays, getting metrics and data about all our services is of vital importance. That's why social media monitoring tools are key to the success of a company. However, not all of these tools are designed for the same task.
But first things first: monitoring and managing social media tools are not the same thing, even though some tools try to convince us that they are. However, many of the tools that allow us to manage social networks, today, also allow us to monitor them.
List of 10 best social media monitoring tools
This ranking of social networks monitoring tools doesn't take into account if they are free or paid. Nevertheless, we'll specify it but it won't be the deciding factor. Let's get started!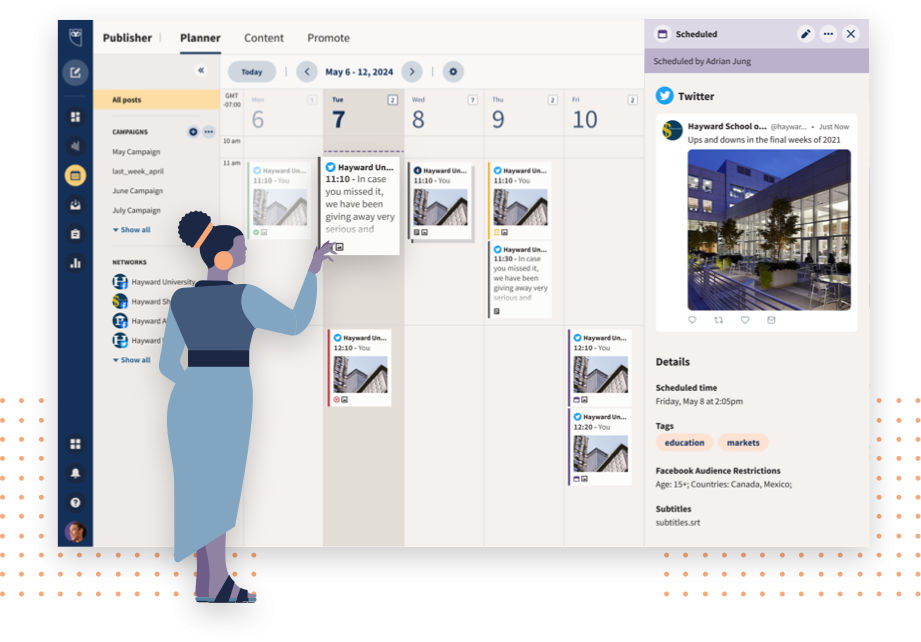 If there's a social media monitoring software that now tops most of the rankings you find on Google, that's Hootsuite. Despite no longer having a free version (as you have to put in your credit card or other form of payment), it's still top of the list when it comes to social media monitoring and management for these reasons:
It's multi-platform (you can manage and monitor Instagram, Facebook, Twitter...).
It's automated and gives complete reports on performance with a very accurate engagement calculation.
It can delegate tasks between users with permissions through a dashboard that allows to set KPI or OKR strategies.
It can schedule publications.
It has a main control panel with all our profiles to monitor and control the performance of your social networks.
In addition, its freemium version has only one condition: you need a payment method. However, it only lasts for one month. But if you're planning to make an investment in network monitoring, we recommend that you take the basic plan. Totally recommended!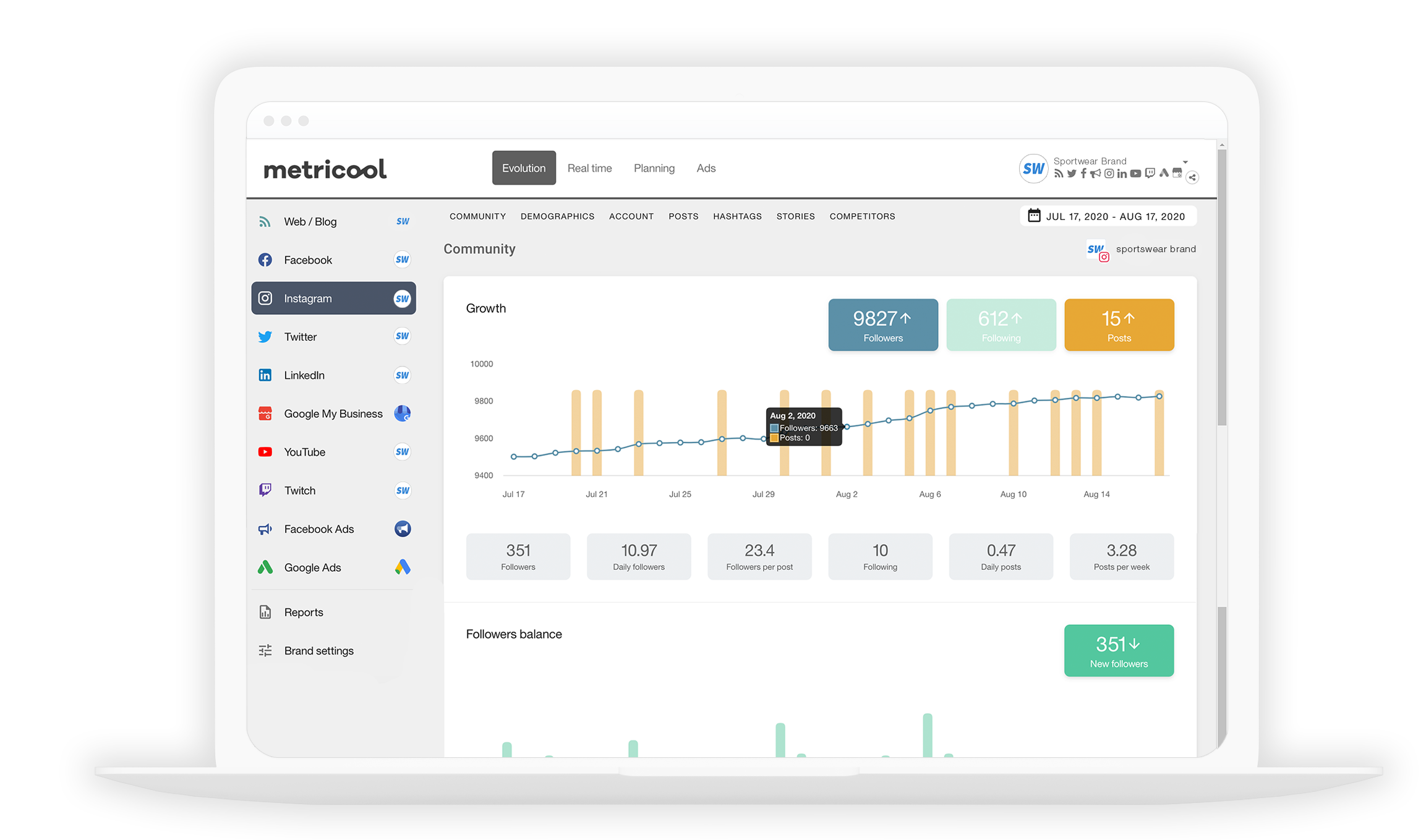 Metricool is an app that works like a Swiss knife. This tool allows us to manage and monitor social networks almost perfectly. Unlike Hootsuite, it does have a 'free' version that monitors a profile, which is priceless for many startups that rely on social media as their marketing strategy. Some of its features are:
It allows you to publish on social media.
It has a dashboard of metrics across all networks.
It shows the performance monitoring of publications.
It has a planning calendar with an integrated schedule that shows where it's best to post.
For an extra fee, it has access to a hashtag tracker that calculates which ones are the most suitable for growth.
All this with a premium version that allows you to monitor many social networks at a time. With the paid versions, you can enjoy automated reports and many more advantages. However, this social media monitoring tool is truly recommended.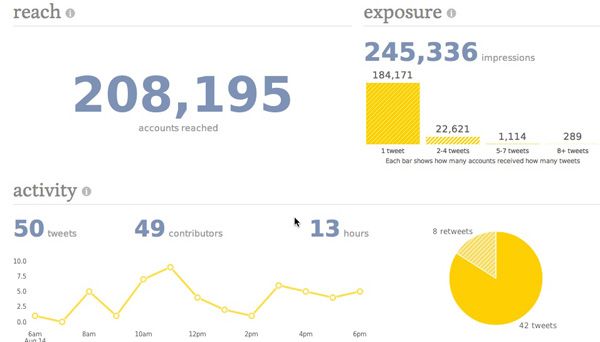 TweetReach is a great way for monitoring a Twitter profile. It's a basic tool but it perfectly fulfils its initial purpose: to measure the impact of tweets and show in a dashboard each of the metrics that a brand has. It a allows to:
Know what kind of profiles interact with you.
Calculate your engagement on Twitter.
Highlight the best performing posts.
Guide you to clean up your audience together with a KPIs' strategy.
It doesn't have a freemium version and its basic plan starts at $49 per month. It's ideal if you're going to base your marketing strategy on Twitter. Thus, it isn't recommended because it's advisable to have presence and activity in at least two social networks.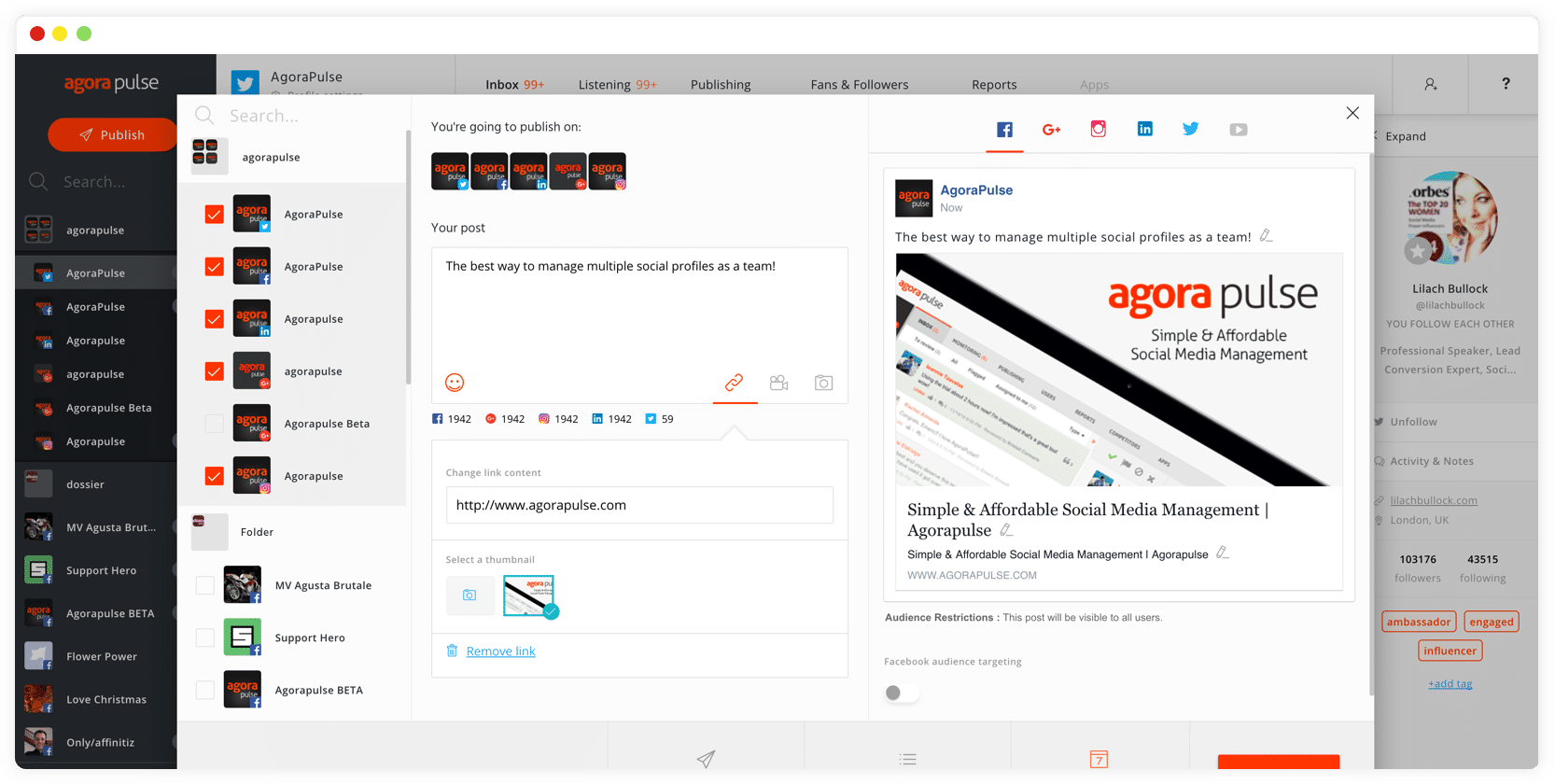 For us, Agorapulse is one of the best social media monitoring tools. Its problem? Its price is really expensive, but it has absolutely everything you need to monitor each of the social profiles you manage, from publication's managing to complete reports. Some of its features are:
Management and scheduling of publications.
Monitoring of interactions in real time.
Gamification tools (sweepstakes, contests, engagement magnets...).
Automated and complete reports.
Competitor analysis and recommended actions.
Virality reach measurement.
App for solutions and metrics-based measures.
In addition, there are many more features that make Agorapulse an incredible tool to monitor and manage each of the social networks that contain the plan you have chosen. Prices range from €39 to €239, but we assure you it's worth every euro!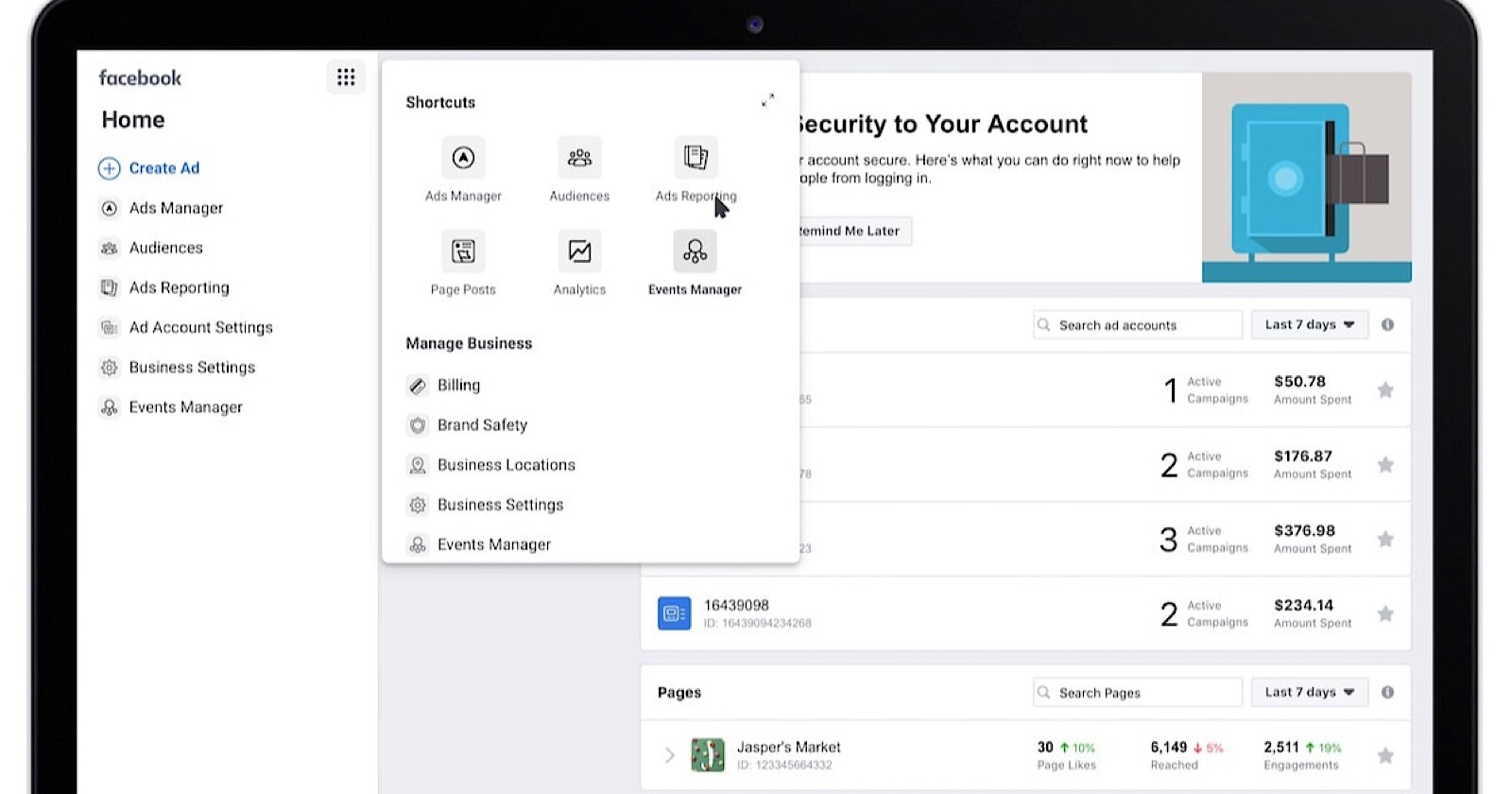 Business Manager allows you to monitor all the social networks belonging to Mark Zuckenberg like Facebook or Instagram. It's useful for:
Monitoring the performance of your profile and posts.
Making promotions.
Scheduling publications.
Consulting and managing private messages and comments.
Measuring and studying the profile of users who follow you.
These and many more features make Business Manager the ideal tool to focus branding efforts on Facebook and Instagram. And it's free!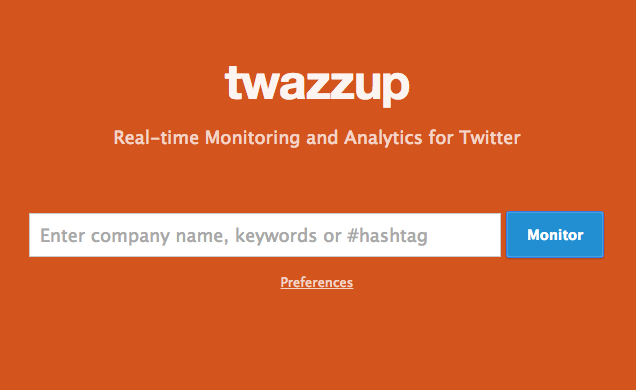 This tool allows you to monitor the status of your competitor's social networks. Just by entering the name, Twazzup will show you real-time updates, such as the most recent activity, the best performing posts and an algorithm that will show you the hashtags or keywords most closely linked to the type of profiles you're monitoring. 100% recommended for Twitter!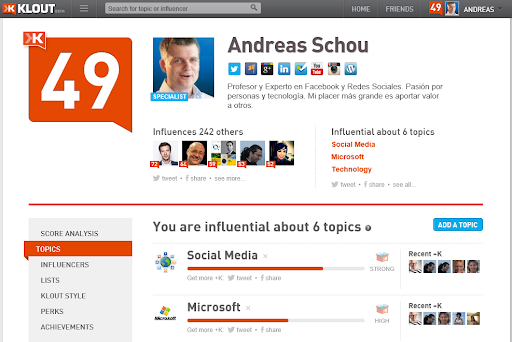 Klout is another tool for monitoring Twitter, although it has both supporters and critics. Some argue that its calculation formulas when it comes to measuring engagement or interaction are inaccurate and sometimes manipulated.
This is due to the fluctuation of the metrics that occur in the profiles, something that many consider impossible, while others believe that this is precisely what makes the tool more truthful.
Klout allows you, thanks to all the information you can extract, to generate content based on your competitors, trying to attract the audience that most follows your interests.
UPDATE: Klout indexes are no longer operative.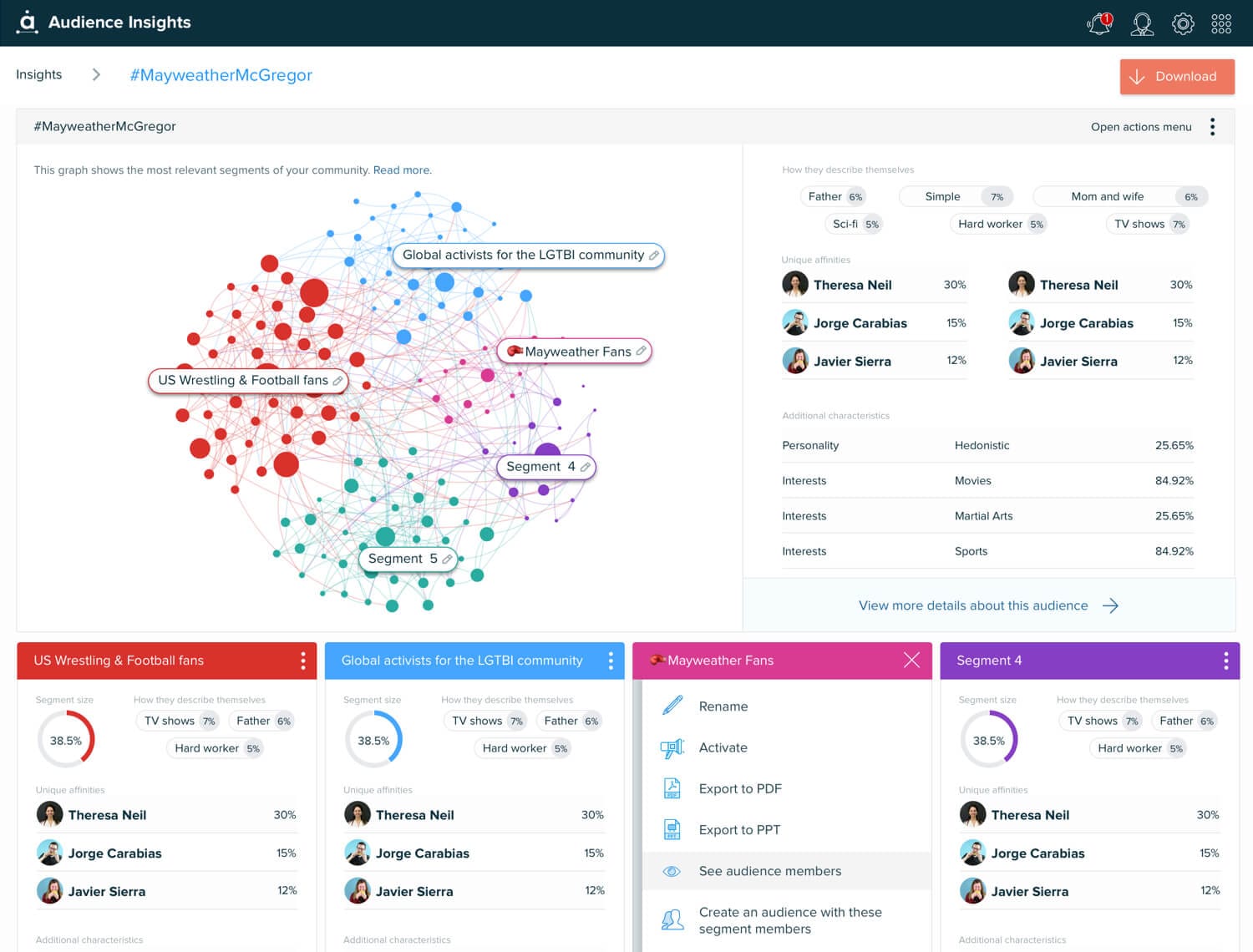 Audiense is one of the best tools for monitoring Twitter. You may be wondering... why are there so many monitoring tools for this social network?
It's very simple: it's one of the most volatile and viral social networks on the market, because of the speed with which communication moves among its users.
For this reason, it's very important to monitor all activity both internally and externally in order to bring our brand closer to the audience that best fits us.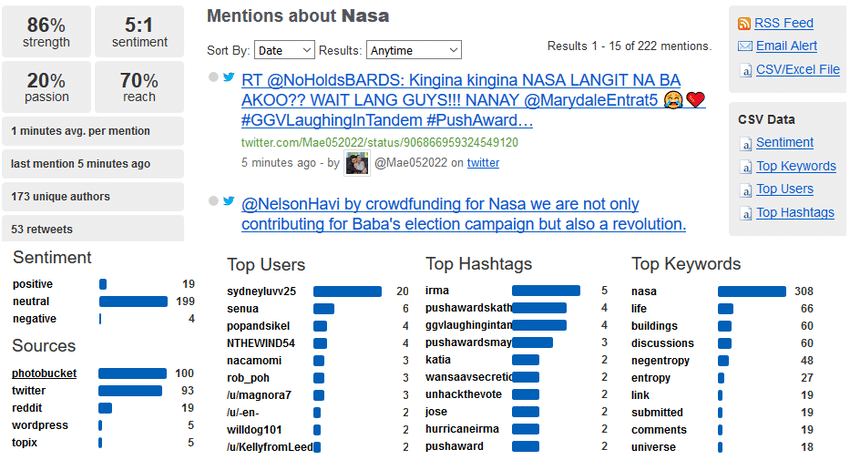 This is possibly the best free tool for measuring a social profile and monitoring it correctly.  With Social Mention we can measure the degree of influence of the social networks we have monitored based on its Strength, Sentiment, Passion and Reach metrics.
Its algorithm is used to get a measurement of virality and diffusion that allows us to create strategies in line with our audience thanks to the results obtained by the competition with their publications. Very recommended!

Have you ever heard of the concept known as brand presence? Well, this social media monitoring tool works on this premise.
HowSociable allows you to track up to 12 social media platforms, in order to acquire data that will allow you to know what is the score of a brand within each of these social networks.
This way you'll be able to know in which social network a brand can perform better or simply control its presence in all of them to know in which one to focus more attention.
What is social media monitoring?
Social media monitoring is based on active listening and constant analysis of all the metrics related to a brand's presence on the Internet. It is the study of all the channels that represent the users' opinion about a company.
If you're interested in audience and brand metrics, you should know that the NPS (Net Promoter Score) is one of the most important metrics of our users in direct contact with our services.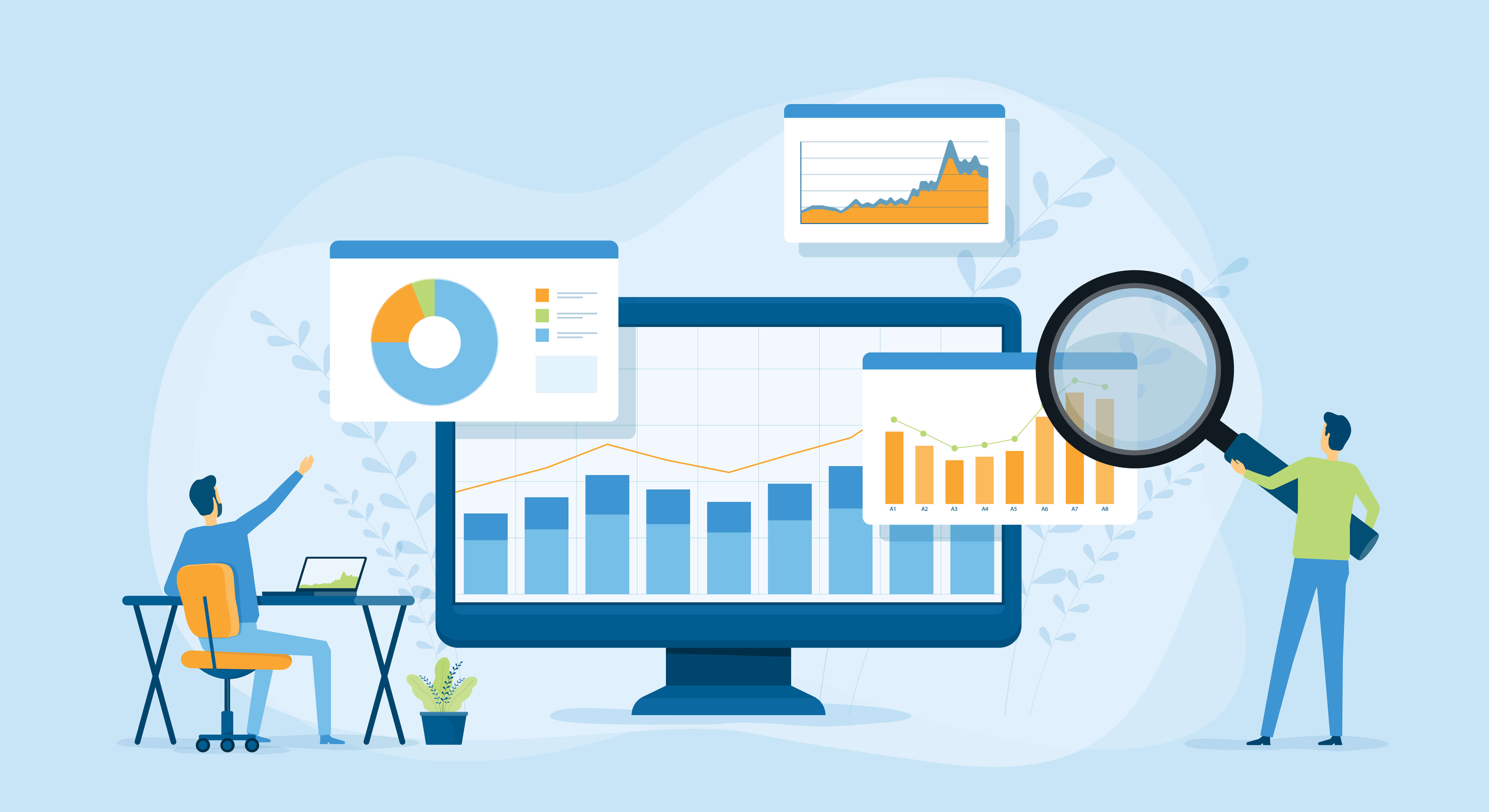 Why you should invest in social media monitoring tools?
If you've reached this part of the article and you're not sure why you should monitor the social networks of your business or competitors, let me tell you something: maybe you don't want to work so much on this aspect, although it's one of the most important ones.
However, don't worry, we're going to give you a list of why to monitor social networks and why to use some of the above tools:
It'll give you an insight into how your competitors are working.
You'll be able to make social media strategies based on current trends.
You'll know where your brand stands in relation to the competition and your audience.
You'll have the possibility to polish your actions and get the KPIs you expected.
Because you can measure everything you do and remember: everything that can be measured, can be improved.
Do you now understand the importance of social media monitoring tools and why this is so important for your brand? Let's start measuring!
Share this in your social networks