Advertising on TikTok: Campaigns from 3 to 60 Seconds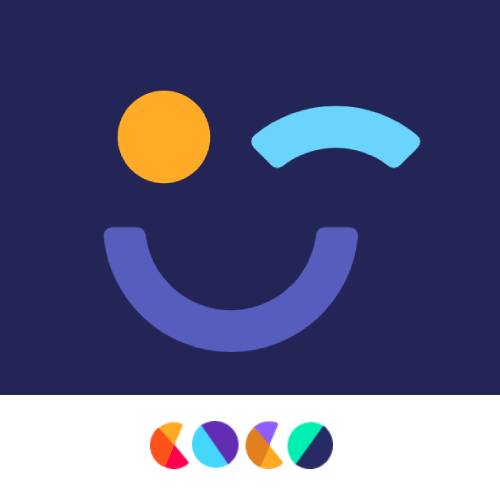 Discover everything to advertise your brand on TikTok.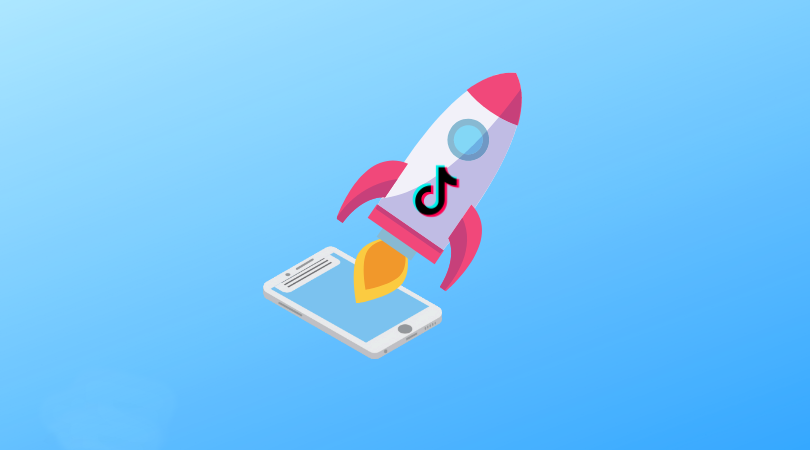 If there is a sector that has benefited from the online world during the quarantine in 2020, apart from e-commerces, have been social networks. Specifically TikTok. The Chinese social network has brought out all our ingenuity and has positioned itself as a true connector between brands and their potential customers.
Thus, it isn't unusual to see how both companies and marketing agencies have questioned themselves how advertising on TikTok works. And we've created a guide on how to use TikTok ADS, or currently called: TikTok for Business.
What's TikTok ADS  or TikTok for Business?
TikTok For Business is the platform through which brands can create their advertising to impact on their potential users. A tool that offers a series of applications for businesses to grow thanks to an investment in the Chinese social network.
With TikTok Ads you can generate advertising campaigns to impact with ads on different audiences, perfectly segmented and generating different A/B tests based on interests, tastes and data extracted from the profiles that interact in the social network.
In addition, you will be able to manage the budget of each and every one of your campaigns, also accessing different parameters and metrics of the groups of ads you have made.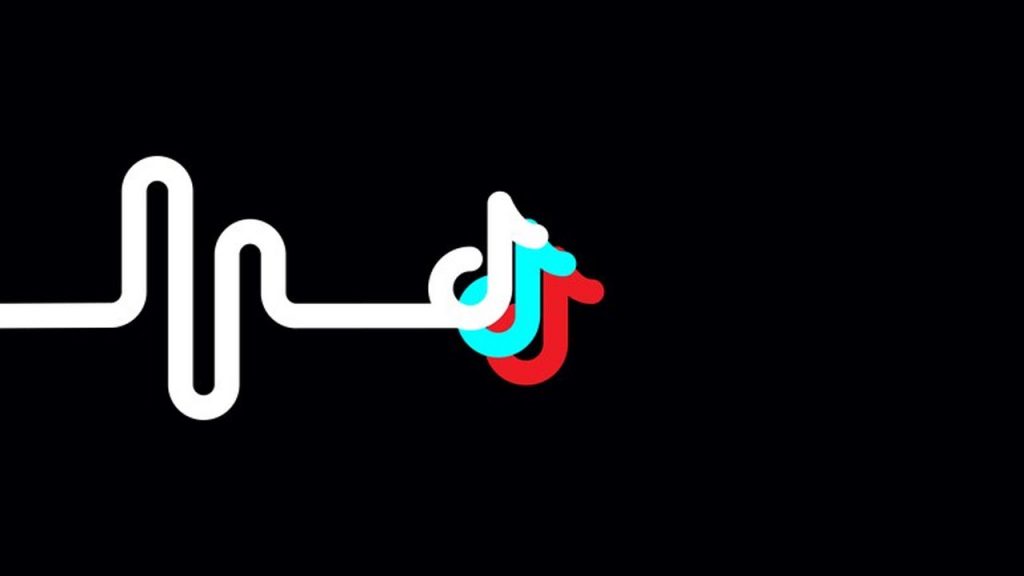 How to advertise on TikTok?
Advertising on TikTok is as simple as visiting the TikTok for Business website and requesting access to the advertising platform, which, after filling out a form specifying your account details, you will have to wait an average of 48, until a TikTok representative contacts you to finish setting up your profile as an advertiser.
Once you are registered, you will only have to create the advertisement and choose the type of advertising you want to create to generate the greatest impact on your audience. You will have to choose between different types of TikTok ad categories, so having a study of your market will be a must for your campaigns on this social network.
Type of advertising on TikTok
Advertising on TikTok is created based on all the possibilities the social network has to show different types of ads. Be careful because there are many ways to advertise on TikTok:
1. Biddable Ads
Biddable Ads is a type of advertising in TikTok with which you can configure different types of dynamic bids for different advertising spaces. What does this mean?  Well, that you can impact with an ad on different users with different interests, being able to appear in their main feed and choosing between 3 different action models on the platform:
CPC (cost per click)
CPM (cost per thousand impressions)
CPV (cost per view)
In terms of targeting, TikTok offers geographical segmentation by age, gender and geography, and the company has also promised that interest segmentation, behavioural segmentation and greater precision in demographic segmentation will soon be available.
In addition, in TikTok advertising you can create customised audiences, plus the ability to blacklist or white-list audiences. You can target and segment your ads based on such important metrics as:
Geography
Age
Gender
Interests
Interaction
Demography
Data that will allow you to create customised audiences to generate online traffic and therefore conversions for your product or service.
2. Brand Takeover
The Brand Takeover is the type of ad that is shown to you when you open TikTok. The first video you will see will be your ad, showing the message, which will be centered on the video's default measurements. Its use is one per day per advertiser, so you will have to segment your audience correctly.
3. Hashtag Challenge
The Hashtag Challenge is a type of advertising in TikTok that is based on the creation of content by fans around a challenging hashtag. Creating a trend, a gesture or promoting a solidarity aid are key to the success of a marketing campaign.
4. Branded Lenses
Branded Lenses is the best way to connect products with videos in a very natural way. By creating a filter based on the brand and encouraging your users to use it, you will be able to generate a high level of interaction with the brand.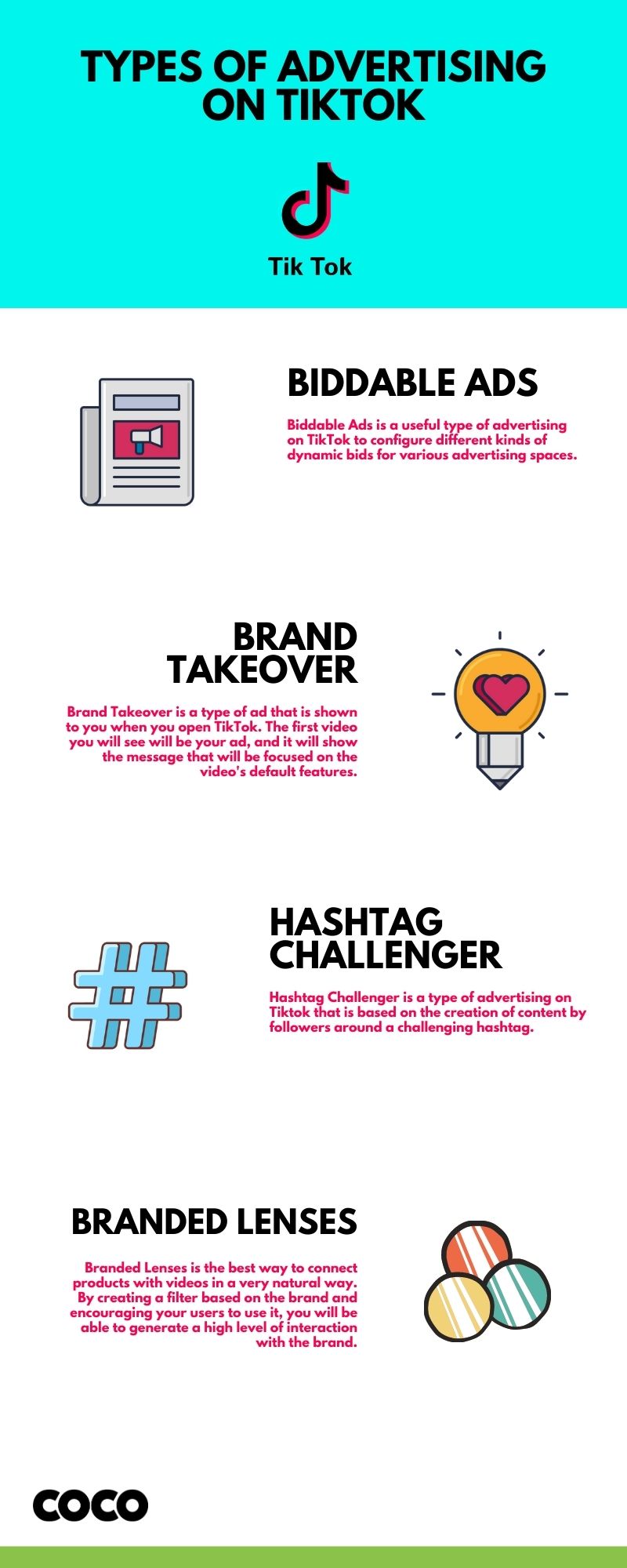 How much does advertising on Tik Tok cost?
And now comes the million dollar question... how much does it cost to advertise on TikTok? Well, there are different ratios depending on the formats chosen. 
Takeover Ads
Takeover Ads is a format that, being subject to one per category per day, has a minimum expenditure of around $50,000 per day. Advertisers typically buy around 9 million impressions through this format. The Brand Takeover is the driving force behind this advertising format in TikTok.
Topview Ads 
Topviews Ads is a format that allows you to create 60 second videos. The method is very similar to Takeover. The video appears to the users who open the application. Its cost for 7 million impressions is 65,000 euros.
In-Feed Video 
In-Feed Video, has a 15 second video format and is shown only 24 hours, placing a publication in the feed of potential users. It costs $25,000 to attract an average of 3.5 million impressions.
Hashtag Challenge
As the most widely used format of TikTok, the Hashtag Challenge is a potential engagement generator. Creating one and promoting it costs around $100,000, which includes the Brand Takeover and In Feed Video with 10 million impressions. Its premium version also offers a direct link to the product being its price of $160,000 in exchange for 15 million impressions.
Branded Effect
This format allows you to create advertising with 2D effects for your brand by using augmented reality, which can be triggered by the movements of the face when using the filter. These filters are created by TikTok's animation department and cost $45,000 with 30 days of use.
As you can see, it seems that advertising on TikTok is created for large companies due to its high costs. However, in TikTok's Creator's Marketplace you will have more affordable promotion options that will allow you to reach a smaller audience. In addition, you will be able to stand out as a creator of content for brands to collaborate with you.
How to get sponsors on Tik Tok?
We've just talked about Creator's Marketplace because it's a platform that you can use once you reach a specific number of followers and likes (remember that this is one of the ways that TikTok calculates your engagement).
Once on this platform you can participate in campaigns offered by brands or agencies and get sponsors with which you can monetize the content you create on the social network.