How to Improve SEO Services for Hotels in 2023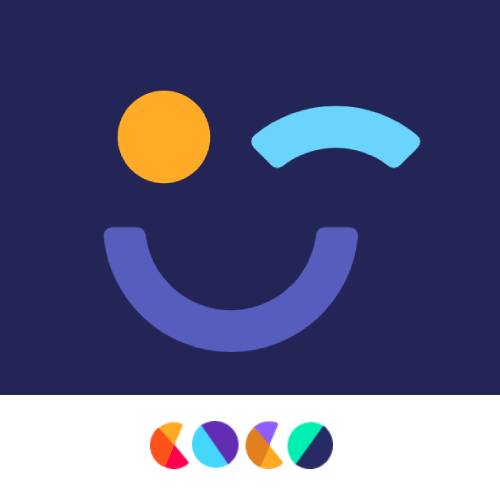 Discover how to strengthen your online presence, drive traffic to your website, and enhance your hotel's bookings.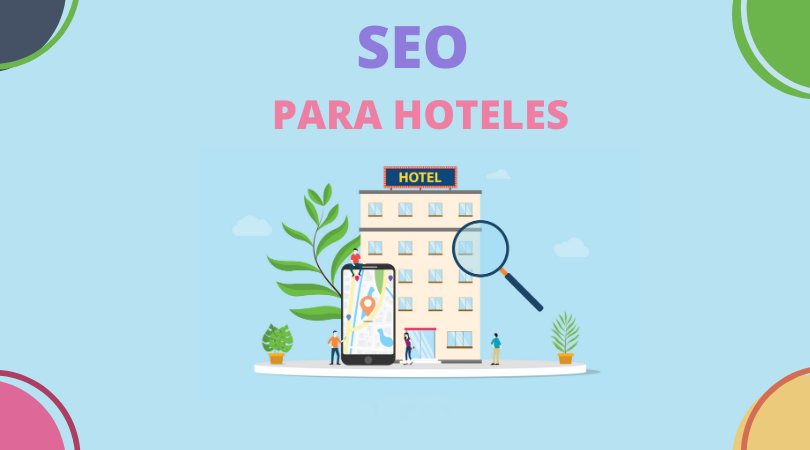 Hello to all #CocoFollowers and hotel marketing addicts. I'm Orlando Santana, one of the founders of Coco Solution. You won't see me writing much due to lack of time, but I'm a SEO Content addict and I love that you love valuable content as much as I love being able to help you learn more about this magical and not very understandable world in many aspects. Today I bring you your weekend dose: SEO for Hotels.
Ever since the pandemic started I have wanted to do an article that talks about the importance of SEO in the hotel sector and now that I have the opportunity I just have to ask you:
Are you a thrill seeker?
If the answer is yes, here you can find the best SEO tips for Hotels that can help you to get customers in your direct channel and compete with the big commissions from OTAs and other players that will still be chasing you 20 years from now.
Let's GO!!!
Background on SEO for Hotels
Let's put ourselves in a past scenario: more than 10 years ago, many hotels were still using traditional contracting methods (offline travel agencies, tour operators, etc.). This ensured an occupancy rate to make the hotel profitable with certain conditions depending on the establishment that made the model itself attractive (5 meetings, 5 meals, 5 drinks... and you had a guaranteed occupancy level all year round).
Who ensured this flow of customers? The traditional players.
Gradually, and quietly, digital players (such as Expedia, Booking or other platforms) came in and said: "Hey, through me, for only a small commission, I can bring you real customers who book your hotel" (actually, not so small...). At that time, hotels were not in the war of the online world and many of them had managers who had a hard time getting into digital and understanding the importance of the world wide web in the travel of the future.
These platforms (that had a hard time entering this market) became so strong on a digital level that, in order to compete against them and get bookings through the direct channel, they had to invest heavily. And we are not talking about protecting brand keywords through SEM, but rather that even if you were the best hotel for adults in the Canary Islands named by 50 official organisations, it would be very difficult to appear above those OTAs in Google search results. Therefore, the consumer was still in the OTA stream and many of them ended up booking through these platforms (while increasing the hotels' dependence on these platforms).
Gradually, hotels realised the importance of working their direct channel and found themselves in a very demanding digital market that required a lot of investment to incentivise their direct channel for non-branded search intent.
Before solving that problem, they faced an even bigger problem: the development of their own website connected to their Channel Manager and PMS. From this problem arose the need to create booking engines, most of which initially cost a fortune. Some could afford to invest in bespoke booking engines, but others found that they were unfeasible or created more problems than solutions. And here another ally-enemy was born: commissioned booking engines. Two of the main aspects that have produced that these commissioned booking engines continue to operate successfully are: their integrations (with different PMS and Channel Managers) and the convenience of being able to forget about their support and improvement.
Something that was a value proposition 10 years ago, but is no longer a value proposal and many direct channels are still seeing commissioned booking engines. I don't know if this is due to ignorance or convenience. Right now it is not that expensive to make a booking engine compared to the commissions that are paid in many of those companies that I am not going to mention but that we all know.
If we talk about the present, in many tourist destinations we find that the majority of sales (even if they come in through direct channels) are commissioned by some players or others. Therefore, SEO for hotels was born from the need to reduce the volume of sales commissioned by OTAs by looking for other strategies within digital marketing that can allow them to receive a greater number of sales in their direct channel (although the sale in many cases is commissioned by the booking engine, the commission is lower) and gain organic visibility. The latter is where I can help you.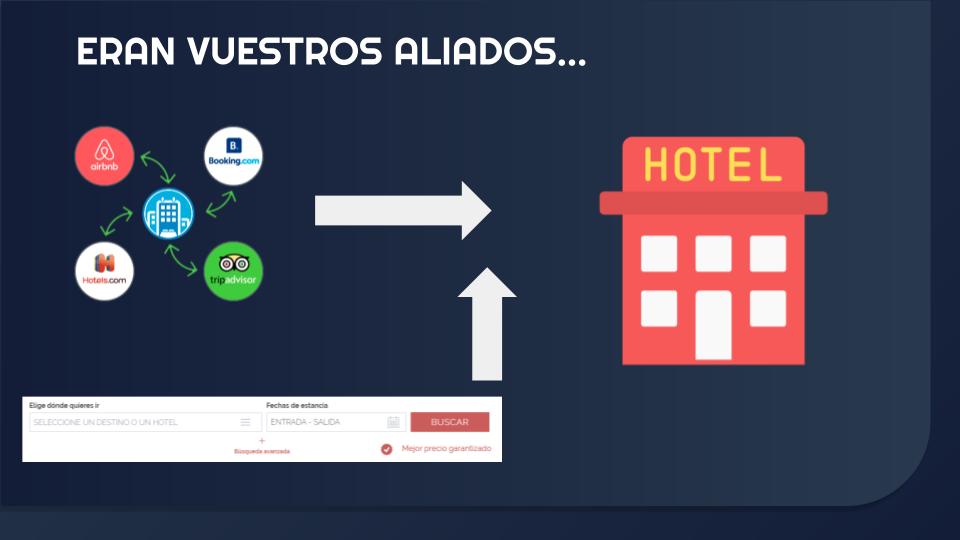 They were your allies, but… what about now?
Now that we know where we stand, let's start talking about the evolution of SEO.
Since 2008 investment in SEO has risen exponentially in most sectors, SEO has become so important that, for most online businesses, it is their main traffic and customer acquisition channel (mostly for branded keywords). Something that should not surprise us because advertising investment is becoming more and more expensive, CPCs have skyrocketed over time and competitiveness is increasingly high, hence there are many businesses that have sought alternatives to maintain their ROAs and remain competitive digitally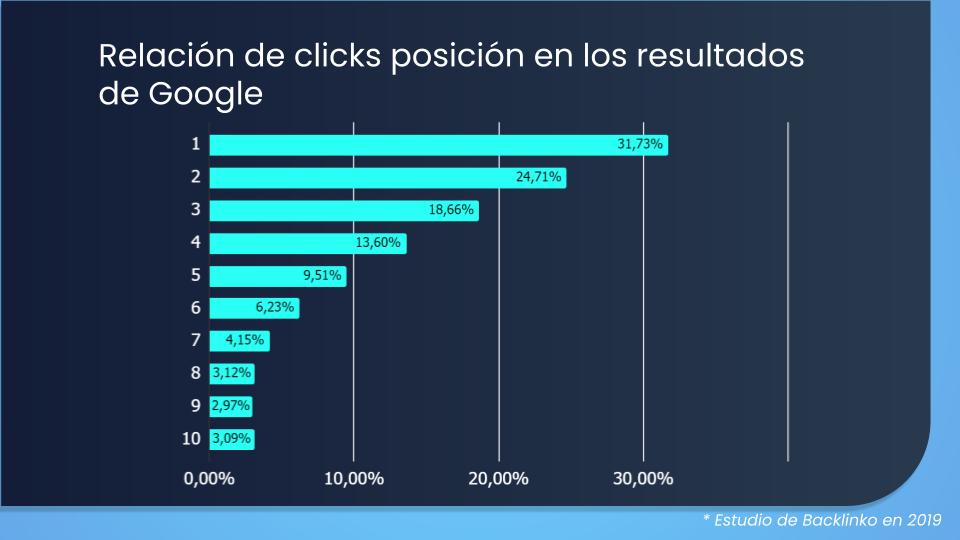 Incredible, right?
SEO Tips for Hotels
Now you may have the perception that it may actually be impossible to literally compete against the OTAs... but this is not the case. With these basic hotel SEO tips you can try to compete better on a budget.
SEO for Hotels Level 1: Understanding and Targeting User Intent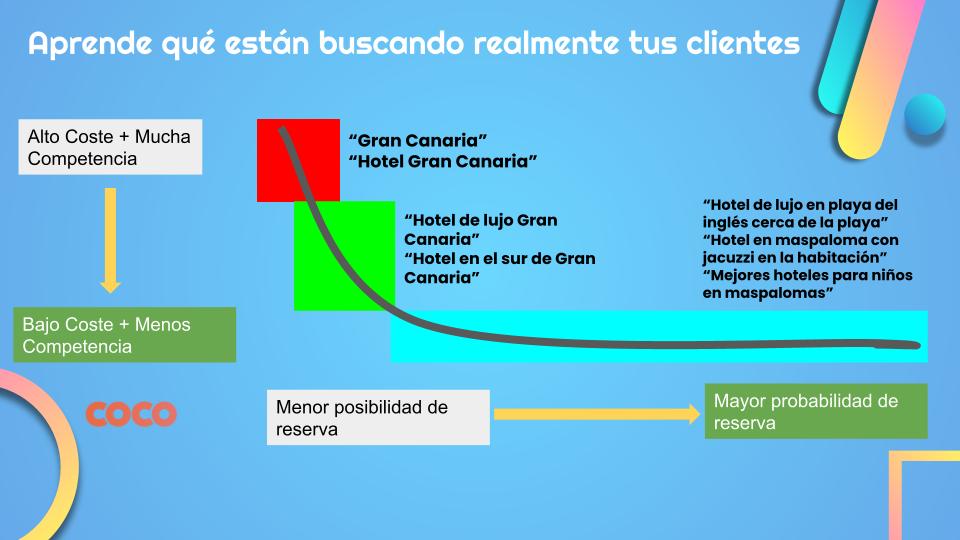 The graph I have shown above uses a similarity to the Short Tail, Medium Tail and Long Tail graph that is used to explain the different tails and the complexity and opportunities of these in keywords of any sector.
This graph is adapted to the hotel niche. As we can see in the graph, many of you may think that attacking generic keywords such as 'Hotels Gran Canaria' may be the best option if we are going to develop an SEO strategy, but you are totally wrong, especially if your budget is tight compared to that of the OTAs. In other words, it is getting into a fight that we are more likely to lose than to win. Therefore, as they have a high cost and a lot of competition, we should rule them out from the outset because there is a lower probability of bookings than other options. LIE you can tell me some of them, well, let's see an example:
Hotel Perspective: Las Cocoteras is a 5 star hotel in the south of Gran Canaria, specifically in the Meloneras area. Its Marketing Director has decided that he wants to position himself for the keyword Hotel in Gran Canaria, the budget he has after 4 years developing the strategy is €950,000 and now he expects by the volume of users of these generic keywords to get his ROI and get less commissioned sales.
Client Perspective: Paco wants to come to the Canary Islands and has decided that he would like to go to Gran Canaria, he is a nature and hiking lover, his initial intention is to go on different hiking routes around the island. Paco goes to Google and searches for 'Hotels in Gran Canaria'. Paco finds Las Cocoteras and accesses its website and leaves the website because he was really looking for a hotel in the upper part of the island.
Do you now understand why generic keywords produce a lower chance of booking?
The customer is still not clear about where to stay in Gran Canaria and what he is looking for. Therefore, many users will come in who are not interested and a lower % will convert.
As we can see, the more specific the search intention is (even if the volume of searches is lower) and the more we match what the consumer wants to find, the greater the chances of booking (with a lower cost and less competition). The customer is looking for experiences, the one they need at that moment. Let's now look at an example from a Long Tail perspective (turquoise area of the graph).
Hotel Perspective: Las Cocoteras is the only 5 star adults only hotel with private pools or jacuzzi in many rooms in the south of Gran Canaria, specifically in the Meloneras area. Its Marketing Director has decided that he wants to position himself for the keyword 5 star Hotel in Meloneras with jacuzzi in the room, the budget he has allocated after 4 years developing the strategy is €50,000 and now he expects by the volume of users of these long tail keywords to get his return and get less commissioned sales.
Client Perspective: Alba and Manuel want to come to the Canary Islands and have decided that they would like to go to Gran Canaria, they are coming on their honeymoon, they like luxury and dream of being able to stay in a room with their bottle of cava inside a jacuzzi. Their initial intention is to be able to dedicate time and rest because they both live in a big capital city where work and the stress of everyday life do not allow them to relax as they would like to. Alba searches for information about Gran Canaria and finds that the area of Meloneras is quite quiet and has things to do if they want to go for a walk, she enters Google and searches for '5 star hotels adults only in Maspalomas with jacuzzi in the room'. Alba, only finds the hotel Las Cocoteras accompanied by different OTAs selling similar hotels with other experiences, goes to the website of Las Cocoteras and ends up booking because the hotel suits her...
Do we understand the differences?
It's not just about writing keywords or queries. It's about understanding consumption patterns, putting ourselves in the customer's shoes and understanding their needs.
Now that we understand more about optimising query patterns within hotel SEO, don't EVER forget to dig deeper into search intent as I show you in the image below:
So now... what should we do? Create content that aligns with the "search intent".
Once we have understood digital consumption patterns and started to understand the needs of our potential customers we have to understand their current education, in the end, simplifying the concepts, the user has three types of intentions:
Navegational:  we are looking for a specific website. Example: hotel brand.
Informational: they are looking for information to learn more about a specific topic. Example: what to see in Gran Canaria. 
Transaccional: they are looking to purchase a specific product/service. Example: booking a hotel in Gran Canaria.
We must try to attack the potential client in all their types of intentions and not only in the transactional one as most hotels seek to do.
SEO for Hotels Level 2: Knowing the Customer Journey
Hotels always tend to focus on the conversion stage and in some cases also on the loyalty stage, but there are many other stages to take into account. It is not only about being there when the customer wants to buy, but at all stages where the potential customer needs to know about you.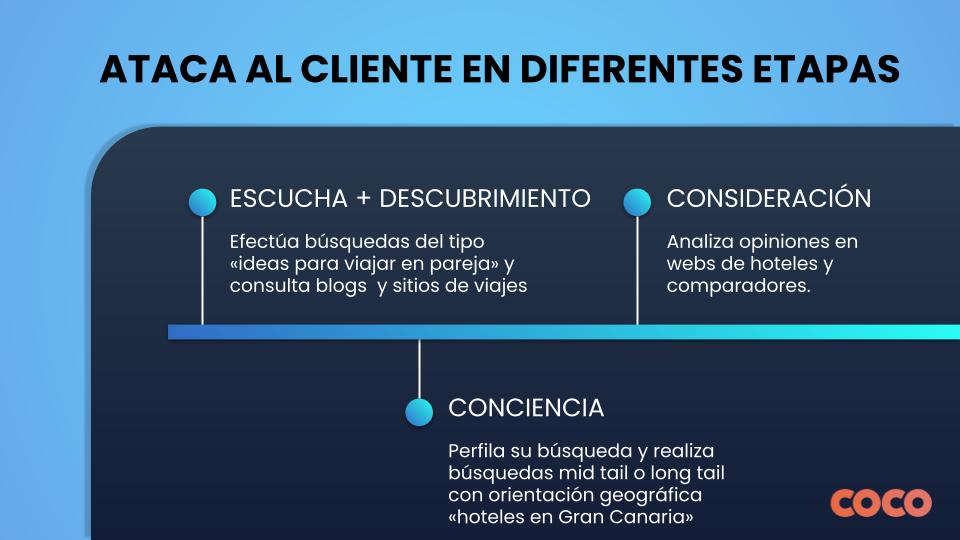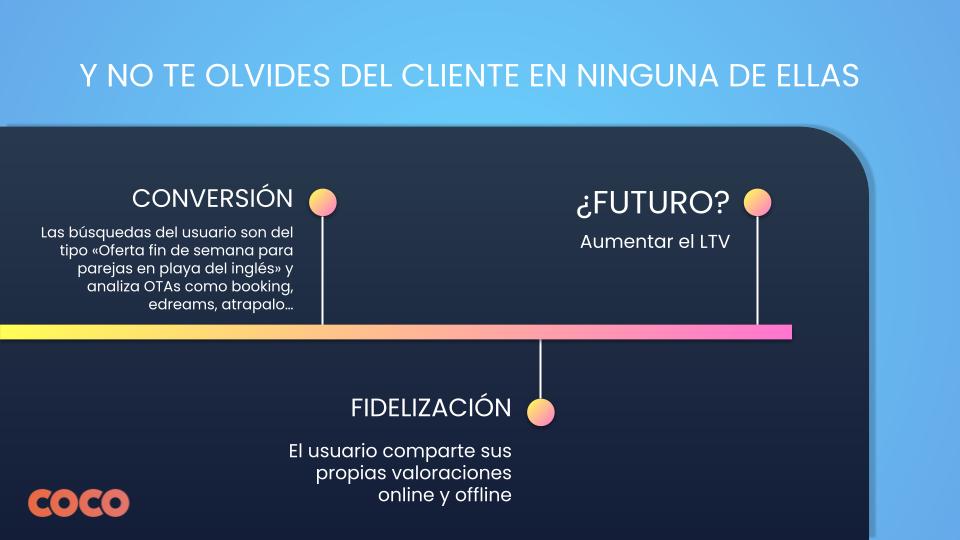 At each stage we can take different actions:
Listening + Discovery: study of the Buyer Persona, studies of communication styles or study of keywords with the aim of understanding and getting to know potential customers.
Awareness: study on areas of interest of different destinations depending on where your hotel is located, study on general experiences offered by your hotel and the customer segment that usually goes there, etc.
Consideration: comparisons, focus on opinions, etc.
Conversion: actions to optimise the CRO of the website, improve the booking engine, promotions, etc.
Loyalty: this is normally done through the hotel club but there are many more strategies that we can try.
And where do we go from here? We work on the Lifetime Value of the customer to try to get a higher % of customers to repeat their experience with us.
SEO for Hotels Level 3: Creating Optimised Pages for your Needs, not their Needs
Who hasn't gone to a hotel looking for a very specific experience? Most people have, but... Did we find it thanks to having a page optimised for that intention? The reality is that no, we usually find what we are looking for very specific experiences in lists of some blog as I show below:
If we were to do that query on Google right now, 99% of the results for search intentions looking for a very specific experience (example: best hotel for vegans) return results from blogs talking about different hotels and in some of those cases these hotels have paid in kind or on a monetary level to appear in them. No matter how much your hotel really offers a differential experience with respect to those that appear on that list for that segment, you do not exist. Therefore, we must try to analyse trends and specific experiences that consumers are looking for. We must not forget that consumers who like to travel are gradually becoming more demanding and are looking for very specific aspects in their search.
SEO for Hotels Level 4: Core Web Vitals
More than a year ago Google started telling us how it plans to update its algorithm to give more weight to pages that offer a better user experience (UX) based on three variables defined by them. Currently, if we look at the Google Audits extension, 80% of the hotels we have analysed (more than 80) do not pass the three variables by a long shot.
So what is going to happen to these hotels?
On May 31, 2021 Google will launch an update (Core Web Vitals) adding the 3 new signals to the algorithm, which means that pages that are faster, easier to use and well designed will have better positions. It has even proposed to put a visual indicator in the SERPs for this. In short, these hotels will not only be affected by their ranking but also by their organic click-through rate. If it was already hard for us to compete now it will be much harder for us to do nothing.
What will the signals be for Google?
How can we prepare for this?
Analyse if we comply with the Core Web Vitals (check now).
Check Core Web Vitals from Google Search Console (as we see below, in the menu on the left, there is a section for it).
Perform a Complete SEO Audit. Coco Solution can help you because we have made more than 20 only in the 3 months that we have been this year.
Conclusion
Intent is more important than the keyword. Consumer patterns can change and we have to get used to analysing them, understanding them and acting quickly.
Adapt the hotel to the consumer and not the consumer to the hotel. Let's improve the hotel according to the consumer profile we want to have and their needs.
Investing in SEO for hotels is a strategy for the future. The less dependence on other intermediaries to be competitive, the better we will be able to control growth (remember the fall of Thomas Cook, which was only the beginning of what may come).
Do you have anything against OTAs? I have nothing against OTAs, I just believe that things can be done better in direct channels and they are not.
That's all for today, another year I will be able to do another article, be very happy, and take care of yourselves...